Announcements
Eric Perreault Named Chair of the Department of Biomedical Engineering
Perreault will succeed John Troy on September 1
Eric Perreault, professor of biomedical engineering and physical medicine and rehabilitation, has been named chair of the Department of Biomedical Engineering at the McCormick School of Engineering and Applied Science. Perreault, who succeeds chair John Troy, will assume the position September 1.
"John Troy will be leaving the department in fantastic shape and with unique opportunities for growth and development," said McCormick Dean Julio M. Ottino. "Under his leadership, the department's ranking has jumped seven places from 19 to 12 and continues to garner national recognition."
"The four plus years of my time as chair have been exciting," Troy said. "Research expenditures have continued to rise in the face of an increasingly competitive environment for funding, and we've been able to improve the educational experience for our students and provide them with more opportunities."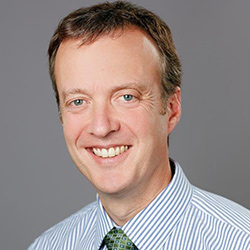 With a joint appointment in McCormick and the Feinberg School of Medicine, Perreault's research focuses on the spinal control of movement, muscle physiology, and biomechanics. The goal of his work is to provide a better understanding of normal and pathological motor control that can be used to guide rehabilitative strategies for restoring function in individuals who have lost motor control due to stroke or spinal cord injury. His lab is based at the Rehabilitation Institute of Chicago. 
Perreault received bachelor's and master's degrees in electrical engineering from McGill University in Montreal and a PhD in biomedical engineering from Case Western Reserve University in Cleveland. Since joining Northwestern in 2002, Perreault has received several honors, including selection as a fellow of the American Institute of Medical and Biomedical Engineering and McCormick's Adviser of the Year.
As chair, Perreault plans to strengthen connections between McCormick and Feinberg. Already splitting his time between both campuses, Perreault has a keen understanding of both communities. He hopes to foster more collaboration among faculty on both campuses and expand opportunities for undergraduate researchers to interact with medical faculty.
"By definition, much of the research done in biomedical engineering is relevant to medical practice," Perreault said. "Many of our faculty are developing new technologies that could be tested in a clinical setting. Similarly, there are many challenging problems in medicine that may have engineering solutions. It's a wonderful symbiotic relationship that many of us already take advantage of but can certainly be strengthened."