Events
American Airlines CEO Talks Transition at Patterson Lecture
Doug Parker spoke Monday, April 20 in the Jacobs Center
Since forming in 1930, American Airlines has experienced many highs and lows. Highlights include lower fuel prices and higher profits in the 1990s. Grave setbacks include financial struggles after September 11, 2001 and again during the 2008 recession. But now the airline giant has rebounded and, in 2015, boasts strong stocks and the highest profits in the company's history.
"Are we just in one of the good times and more bad times will come?" asked American Airlines CEO Doug Parker. "No, I believe things are different this time."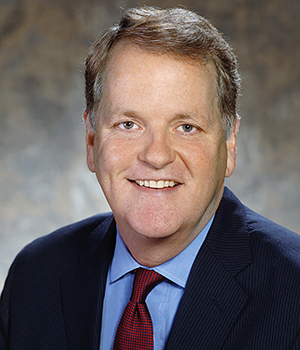 A lengthy period of transition followed the federal government's deregulation of the airline industry in 1978. American Airlines is still in transition, but, according to Parker, the end is in sight. He discussed the end of the airline industry's long transition at the 34th annual William A. Patterson Transportation Lecture. Hosted by the Northwestern University Transportation Center, the lecture took place Monday, April 20 in the Donald P. Jacobs Center in Evanston.
"Things are different now because we are no longer being treated like a public utility," Parker said. "Now we can operate like a real business. We've transformed American Airlines, and our goal was to restore it to the greatest airline in the world."
American Airlines merged with US Airways in 2013 to form the world's largest airline company. Parker oversaw the integration of operations at more than 100 airports, merging of staff, and a tricky effort to combine two frequent flier programs into one. He said the key to successful mergers is to "integrate then innovate." Now that the companies are successfully combined, Parker said they can focus on improving programs and services. American Airlines is adding 85 new airplanes per year to replace older ones and recently established a $2 billion product improvement plan, which will include Wi-Fi on more planes and more comfortable seats on international flights.
While business is booming for American Airlines, Parker said one major challenge remains. Emirates Airline, Etihad Airways, and Qatar Airways are rapidly expanding their services into the United States. The three airlines have received more than $40 billion in subsidies from their governments, which Parker called unfair because the US government does not subsidize airlines in the same way.
"People will do things that we can't compete with," Parker said. "But they eventually go away because they don't make economic sense. It might not make economic sense to fly a plane from Dubai to Houston, but the government will continue to pay for it."
During the question-and-answer portion of the event, an audience member asked Parker how American Airlines ensures safety, especially after a copilot intentionally crashed a Germanwings plane in the French Alps earlier this month. Parker said that it would be hard for the same scenario to take place on an American plane because no one is allowed in the cockpit alone, and pilots are encouraged to seek mental health treatment without fearing repercussions.
"I can't say for certain that it wouldn't happen on American Airlines," Parker said. "But we do everything possible to keep our customers safe and pilots comfortable."
Tim Calkins, a professor of marketing in the Kellogg School of Management, asked Parker how American Airlines plans to compete with deep discount carriers, such as Ryan Air, Spirit Airlines, and Frontier. Parker said they are not concerned.
"That's just competition," he said. "It's a much different product than our customers want, but there's still room for it. We can't compete on cost, but we will compete on product."