Education
New Course Mixes Art and Engineering
McCormick and Weinberg students collaborated on social practice art
Artists and engineers typically have different ways of viewing a problem: artists want to explore it, while engineers want to solve it.
At Northwestern, faculty are working to break down this type of conventional thinking to help students look at problems in new ways. A new course offered this fall called Artists and Engineers Collaborate brought together students from both the McCormick School of Engineering and the Weinberg College of Arts and Sciences to collaborate and learn each other's cognitive styles.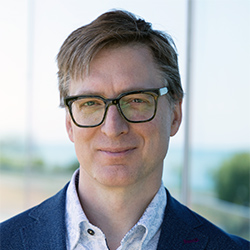 Sponsored by the Barry and Mary Ann MacLean Fund for Art & Engineering, the course was co-taught by Malcolm MacIver, associate professor of biomedical engineering and mechanical engineering in McCormick, and Jeanne Dunning, artist and professor of art theory and practice in Weinberg.
"Engineers at McCormick are trained for problem solving," MacIver said. "They are given a problem by a client, and they solve that problem. Artists are taught to find a problem. So the artist's problems are often interior in source, while the engineer's are often exterior."
MacIver and Dunning asked the class to study social practice art, a medium that combines practicality and usefulness with aesthetics for the purpose of social engagement.
"There is a vast diversity of kinds of art," MacIver said. "We wanted to choose something that was most appropriate for a collaboration with engineers. The useful component of social practice art brings to mind engineering and design."
During the first classes, MacIver and Dunning exposed students to several examples of social practice artists, including art by Iñigo Manglano-Ovalle and a presentation by Michael Rakowitz, artist and professor of art theory and practice at Northwestern. Then students brainstormed together to come up with a pool of ideas that were local and meaningful.
"We asked them to truly solve a real problem in an unusual way," Dunning said. "Their projects should change how people think about things."
Interdisciplinary groups converged and collaborated to design and implement four projects:
ShuttleTalk, a smartphone app that facilitates social interaction among riders on the Northwestern intercampus shuttle.
Spectrum, a collaborative, pattern-building game that helps non-autistic workers better understand their autistic colleagues.
Speak Up!, public interventions that promote awareness of street harassment and empower bystanders to speak up when they witness it.
Bable, a bench/table hybrid that allows students to work outside while giving a sense of personal space.
The Spectrum project hit home for group member Laura McGinn, a graduate student in art theory and practice. Growing up with an older brother on the autism spectrum, she understood the frustration of communication. "You want to be able to connect, but it's tricky to bridge that gap," she said.
While working on the project, McGinn and her group realized that many games already existed to help autistic people improve communication skills. But nothing was available to help those who are not autistic learn how to facilitate interactions in the workplace. Throughout the course of its research, the team continually shifted focus, which impressed Dunning and MacIver.
"You can't solve a problem based on preconceived notions," Dunning said. "When they really worked on their project, their opinions changed based on research."
Even though the class has ended, some of the projects will continue to live on outside of the classroom. Have Dreams, a Chicago-area autism resource, has expressed interest in implementing the game into its program. The ShuttleTalk team has an upcoming meeting with developers on campus to explore potential implementation of the application. And the Bable team may install a prototype on campus for a trial run later this year.
"I recognized that a solution to a problem can solve more than you would expect," said McCormick undergraduate Bryan Berger, a member of the ShuttleTalk team. "It could create an emotional response, provide a new perspective, or spread awareness—possibly without the user even realizing they are being educated."
The class is the latest effort in a series of initiatives to connect engineering and other disciplines. Another course at the art/engineering interface runs in partnership with the School of the Art Institute of Chicago.
"These courses are difficult and expensive to offer. They require many faculty members and do not scale well, but they provide a tremendous experience for our students and, more and more, are a part of who we are," said McCormick Dean Julio M. Ottino. "The output justifies the effort. Students learn that other disciplines share much in common. These initiatives provide the opportunity for our students to learn to work at the intersection."