Events
PayPal Founder to Speak about the Future of Progress
Entrepreneur and investor Peter Thiel will visit campus Monday, Dec. 8
According to entrepreneur and investor Peter Thiel, the future of progress does not lie in copying successful formulas but in finding value in unexpected places.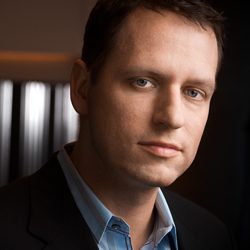 Thiel will present his often contrarian ideas about competition, progress, and technology on campus next week as a part of the e@nu speaker series. "Developing the Developed World" will take place at 1 p.m. Monday, Dec. 8 in Tech LR2.
Hosted by the Farley Center for Entrepreneurship and Innovation, the event is free, but registration is encouraged.
Thiel cofounded PayPal in 1998 as a way to make online commerce fast and secure. He went on to provide early investments for several successful online companies, including Facebook, LinkedIn, and Yelp. He is the author of The New York Times bestseller Zero to One: Notes on Startups, Or How to Build the Future, in which he calls for entrepreneurs to search for uncharted business frontiers and add completely new inventions to the marketplace.
Thiel has often been a critic of education, starting the Thiel Fellowship, which ignited a national debate by encouraging young people to put learning before schooling. Started in 2010, the fellowship is intended for students under the age of 20 to drop out of school and pursue other work, involving scientific research, creating a startup, or working on a social movement.