Events
PayPal Cofounder Encourages Students to Seek Secrets, Build Monopolies
Hosted by the Farley Center, entrepreneur and investor Peter Thiel spoke to students during a visit on Dec. 8
Although "developed world" is typically viewed as a positive label, it makes PayPal cofounder Peter Thiel bristle. He sees it as the end of progress, the end of the technological era, and something that should be fought.
A packed audience crowded into Tech LR2—sitting on the stairs and leaning against the walls—to hear entrepreneur and investor Thiel share his views about entrepreneurship and education as a part of the e@nu speaker series. Hosted by the Farley Center for Entrepreneurship and Innovation, "Developing the Developed World," took place at 1 p.m. on Monday, Dec. 8.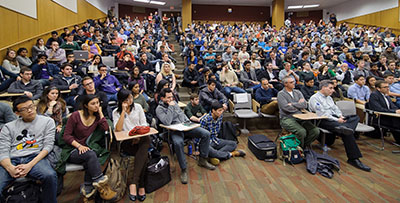 "The term 'developed world' is implicitly anti-technological because it tells us that we are living in the part of the world that is developed, that is done and finished, where nothing new is going to happen," Thiel said. "This is a conception of our world which we should resist very strongly."
According to Thiel, the United States is experiencing a period of limited technological progress, and the answer cannot be found in a formula. Instead, it will be the people who break the mold and find value in unexpected places who will push the frontier of knowledge. He said entrepreneurs should resist the urge to copy technology giants like Bill Gates and Steve Jobs because "if you're copying these people, you're not learning from them."
Known for his often contrarian views, Thiel said capitalism and competition are antonyms. The ultimate goal should be to avoid competition and build a monopoly, which is most possible for businesses based on original thinking that find an unoccupied niche. Thiel said that Google and Facebook experienced extreme success because they were not in competition with other companies. 
"You should always aim for a monopoly," said Thiel, who recently published the new book Zero to One: Notes on Startups or How to Build the Future. "All happy companies are different, and all unhappy companies are alike in that they fail to escape the sameness of competition."
For entrepreneurs searching for the next new idea, Thiel broke down ideas into three categories: conventions, secrets, and mysteries. Conventions describe how things are typically done and do not offer anything new. Mysteries are unattainable ideas that will never be fully understood. Secrets are the sweet spot for which everyone should strive. They are difficult to find but still possible to discover, residing in less obvious places. Thiel said that entrepreneurs should search for new secrets and avoid popular trends.
"All trends are overrated," he said. "If you hear the words 'big data' and 'cloud computing,' run away. If it can be reduced to a buzzword, then too many people are doing it."
During the question-and-answer portion of the event, an audience member asked Thiel about his controversial Thiel Fellowship, which encourages young people to drop out of college to pursue other work. Thiel said he never intended the fellowship to become controversial and did not expect students to completely drop out. Instead, he wanted them to take a break to gain new experience and later return to school. Still, Thiel remains a critic of higher education.
"There is so much anxiety around education," he said. "It's seen as the only path to knowledge and as the be all, end all."
Rather than jumping through the hoops of education, Thiel encouraged young entrepreneurs to have the courage to take other risks, adding that "courage is in shorter supply than genius."