Honors and Awards
Northwestern Wins Programming Contest, Advances to World Finals
Team Mildcat wins for the second year in a row
They've done it again!
For the second year in a row, a McCormick team has won the Association for Computing Machinery (ACM) Mid-Central USA Regional Programming Contest.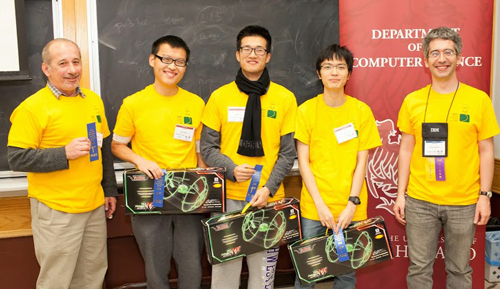 Three undergraduates in electrical engineering and computer science—David Wang, Siyuan Cai, and Edward Kim—made up the victorious Team Mildcat. Goce Trajcevski, senior lecturer and assistant chair of electrical engineering and computer science, served as their coach.
The contest took place Nov. 1 at the University of Chicago.
Sponsored by IBM, the ACM International Collegiate Programming Contest (ICPC) is an annual, multi-tiered competitive programming challenge among several universities around the world. During the contest, teams of three students are given five hours to solve 8 to 12 programming problems. They must submit solutions as programs in C, C++, or Java, which are then used to run on test data.
In a narrow battle, the Mildcats scored a one-point victory over the second place University of Chicago team. The Mildcats clinched the win by submitting their code just one minute faster than their competitors. A second Northwestern team, the Wildcats, took 10th place out of 146 teams.
For its next challenge, Team Mildcat will travel to Morocco for the 2015 ACM-ICPC World Finals in May.