Events
Nobel Laureate Dan Shechtman Proposes Technological Entrepreneurship as Path to Prosperity
Building sustainable economies will require teaching entrepreneurship early
The United Nations estimates that by 2050, the population of developed countries will remain relatively unchanged. In stark contrast, the population of the 49 least developed countries is expected to double in size. 
These population trends will likely pose new global challenges in the coming decades; namely, how can these developing countries build sustainable economies?
For Dan Shechtman, the solution can be found through entrepreneurship and the development of human ingenuity. 
Shechtman, the Philip Tobias Distinguished Professor of Materials Science at Technion Israel Institute of Technology and recipient of the 2011 Nobel Prize in Chemistry, spoke on the subject as part of the McCormick Dean's Seminar Series on Oct. 20. His lecture, titled "Technological Entrepreneurship—a Key to World Peace and Prosperity," provided a roadmap of entrepreneurship education to a packed auditorium filled with Northwestern students and faculty. 
According to Shechtman, to foster an environment where entrepreneurism can flourish, certain conditions must be present, including accessible education for all people (particularly those in developing counties), a concerted effort to produce more engineers and scientists, government policies that promote conditions for startups to prosper, a free market economic system, and an effort to limit corruption. 
But even if such requirements are achieved, two more intangible traits are needed for startups to take shape: entrepreneurial spirit and knowledge.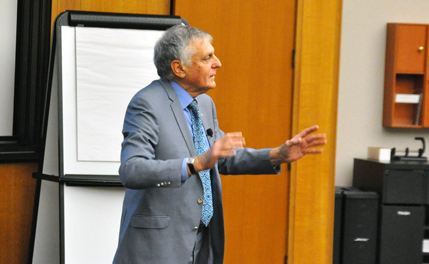 "How do I open a startup? How do I get an idea? Where do I go? Whom do I turn to for advice? That's the knowledge," Shechtman said. "The spirit is different. It's elusive. It's in the air and suddenly you realize that every young man or woman wants to open a startup."
Shechtman believes the best method to encourage people to become entrepreneurs is to introduce them to the process early in their education. "It's the engineers, biologists, doctors, scientists, computer experts – these are the people that start new high-tech companies," he said. "We should catch them when they are still young." 
"When I was a student at Technion, the belief was that when you graduate, everyone will want to hire you," Shechtman said. "I thought that was wonderful, but what if I want to open a new company? How will I do that? Technion did not teach that. There was a focus on science and technology, but there was zero exposure on entrepreneurship."
Shechtman changed those conditions as a professor at Technion in 1986. He developed a course called "Technological Entrepreneurship" to teach students the core principles of starting a company. 
The class, which has drawn hundreds of students annually for the last 27 years, consists entirely of visiting lectures. Speakers range from established entrepreneurs who serve as role models for students, to recent entrants in the field who share current challenges and opportunities entrepreneurs face, to lawyers who explain how to register a company or apply for patents. 
Given the enthusiastic response to his course, Shechtman was asked by an audience member what he thinks motivates young people to start their own business. He explained that more than money, technological entrepreneurship encourages young people to solve problems. 
"Young people look for challenges. They climb mountains," Shechtman said. "It's not easy to do, but once you are at the top, you know you've achieved something that other people won't. That challenge, and the feeling you can make something new that does not exist, is the driving force."
In addition to speaking at the Dean's Seminar Series, Shechtman also delivered an academic lecture about his research of quasiperiodic crystals as part of the Department of Materials Science and Engineering's Jerome B. Cohen Distinguished Lecture Series.