Events
Making the Bank of America Chicago Marathon Even Better
Northwestern faculty, students use data, planning tools to help prepare for mass gathering
Northwestern University and the Bank of America Chicago Marathon are teaming up once again at this year's marathon to improve an already excellent race that draws approximately 45,000 runners from around the world.
Karen Smilowitz, a logistics expert at Northwestern's McCormick School of Engineering and Applied Science, and George T. Chiampas, medical director of the Chicago Marathon and an emergency medicine professor at Northwestern University Feinberg School of Medicine, have been leading this multi-year joint project.
Smilowitz and Chiampas are working closely with two other Northwestern faculty and a team of students to use data analytics to best prepare for a mass gathering of the marathon's magnitude -- including course design, medical preparedness, public safety and security.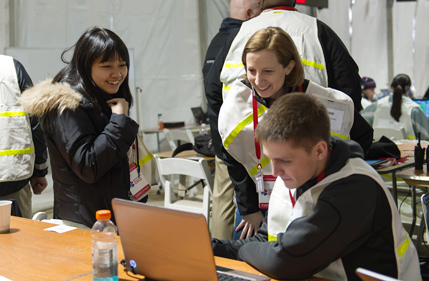 The team already has developed a visual "dashboard" that displays critical and logistical race data in real time in one convenient place for use by the Chicago Marathon's forward command. The dashboard -- tested earlier this year at the Bank of America Shamrock Shuffle -- will make its marathon debut Oct. 12. Staff stationed on the course will be able to access some of the data using a Web-based app on their smartphones.
"Our goal in this partnership is to use data to optimize decision-making prior and during these huge events, while taking many objectives into consideration," said Smilowitz, associate professor of industrial engineering and management sciences at McCormick.
"At this year's marathon, we will be both observing and gathering a lot of data to help us analyze various aspects of the race and plan for future marathons," Smilowitz said. "Many other premier marathons, such as the Boston Marathon, New York City Marathon and Tokyo Marathon, as well as other types of mass gathering events, will be interested in our results."
Supported by the National Science Foundation (NSF), the collaboration is the first of its kind and a unique application of operations research.
The new map-based "dashboard" will display key facts to approximately 100 management personnel in an easy-to-use way. Data will include the number of runners who have passed a certain point in the race, how many patients are in the medical tents at a given time, the current and predicted weather conditions, the winning runner and time, and more.
In addition to observing how Chicago Marathon officials use the new "dashboard," the research team also will capture more and richer data at the 20 busy aid stations as well as medical data from other medical facilities. The researchers will use this information to expand the marathon's medical database and compile the most comprehensive medical database in the world, which will be used in planning and real-time operations for future events.
The researchers also will gather information on course route and design, looking at details such as the number of turns in and amount of shade on the course, where supplies are delivered, evacuation routes and locations of nearby hospitals.
"This is a great example of a university and an organization working together to share knowledge and ultimately improve a great Chicago event," said Chiampas, who has served as medical director of the Chicago Marathon since 2007.
The Chicago Marathon numbers are daunting: approximately 45,000 runners, from the elite to the "once in a lifetime"; 26.2 miles through 29 neighborhoods; 1.7 million spectators; 20 aid stations; and more.
Smilowitz, Chiampas and their colleagues developed the dashboard technology using data and experience from earlier Chicago marathons and other races. The data visualization dashboard had a successful test run during the 8K Shamrock Shuffle in March and now will be more broadly deployed at the Chicago Marathon.
Their research team recently received a three-year "GOALI" grant for academia-industry collaborations from the NSF to work on the medical database and course design. The goals are to create the most comprehensive medical study of a large-scale marathon and develop a model that optimizes disparate objectives (runners and the race, safety, spectators, neighborhoods, etc.) for improved course design.
In addition to Smilowitz and Chiampas, the principal investigators are Sanjay Mehrotra, professor of industrial engineering and management sciences at McCormick; and Jennifer Chan, assistant professor of emergency medicine at Feinberg.
The research team has a host of medical and engineering students (undergraduate and graduate) helping collect and analyze the data and develop solutions.