McCormick in the Media
McCormick Alumna Ginni Rometty Named Fortune's 2014 Most Powerful Woman in Business
Rometty earned a degree in computer science from McCormick
For the third consecutive year, IBM CEO, president, and chairman and McCormick alumna Ginni Rometty ('79) is the most powerful woman in the business world, according to Fortune magazine's annual ranking of the "50 Most Powerful Women in Business."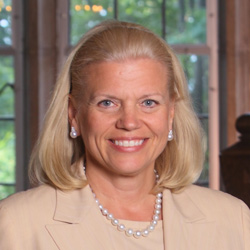 Rometty, who has worked at IBM for 33 years, was named CEO of the company in 2012. Previously, she served as IBM's senior vice president and group executive for sales, marketing, and strategy, where she oversaw IBM's business results in 170 global markets.
Fortune recognized Rometty for leading IBM in its efforts to forge new partnerships and invest in new technologies, including those in the mobile and cloud-service fields, as well as further exploring opportunities in cognitive computing with the company's supercomputer, "Watson." 
"Rometty has also signed strategic partnerships, such as a deal with Apple to provide IBM's services on the iOS platform," according to Fortune. "And in October, IBM will move its newly formed Watson business group to a new building in downtown Manhattan. Rometty has also pledged to invest $1 billion in the development and commercialization of the cognitive computing system, another future growth area for the company."
Rometty graduated from Northwestern University in 1979 with a degree in computer science from McCormick. She served as McCormick's undergraduate convocation speaker in 2010, and is a current member of Northwestern's Board of Trustees. She last spoke at Northwestern in 2011, where she presented lessons she had learned during her time at IBM.
View Fortune magazine's list of the "50 Most Powerful Women in Business."