Events
ETOPiA Celebrates Seven Years of Art and Engineering
Performance arts initiative seeks to inspire dialogue about the roles of science and technology in society
Reserve tickets here for Grounded, ETOPiA's newest production.
Though divergent in a modern world, art and engineering both result in creations the world has never before seen or experienced. Combining the two fields enriches research and opens doors for new discoveries.
For the past seven years, the McCormick School of Engineering has worked to bring these two worlds together with ETOPiA, the Engineering Transdisciplinary Outreach Project in the Arts. Each autumn ETOPiA performs a play that seeks to inspire dialogue about the roles of science and technology in society. In a converted classroom in the Technological Institute, the theater pieces are professionally staged and free of admission. Scientists like Marie Curie, Richard Feynman, and Steve Jobs come to life and share their stories, and in a post-show dialogue, the audience considers the role of science and technology in society.
"When you hear an actor embodying Marie Curie and speaking in the first person, it makes the story real," said Matthew Grayson, producer of the annual event and associate professor of electrical engineering and computer science. "It humanizes science and technology, giving the audience a fresh perspective."
The idea for ETOPiA was sparked by a play that took place years ago and half a world away. Grayson was a researcher at the Technical University of Munich in Germany when he decided to rally other expats for an English-language performance of Copenhagen, a play that tells the story of a visit between friends and physicists Werner Heisenberg and Niels Bohr. When Grayson moved to Northwestern to become an assistant professor, he knew he wanted to bring this science theater project with him.
What became ETOPiA fit in well with McCormick's vision of Whole-Brain Engineering; it linked artistic expression with technical ideas. The plays highlight the pursuit of knowledge with historical and fictitious characters revealing how the application of science and technology can affect society. Following each show is a discussion about the performance during which audience members can interact with one another and ask questions of the cast, crew, and invited speakers.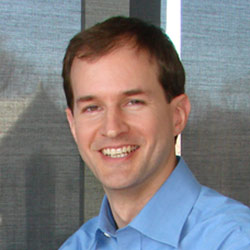 "Theater is a shared experience, yet everyone 'sees' a different show," Grayson said. "Individual perspectives color your interpretation."
These different perspectives make for illuminating post-performance discussions. Richard Feynman's first PhD student Laurie Brown, a Northwestern emeritus professor of physics attended a play about Feynman's life and work. Recently returned from a Chinese province where FoxConn Technology Group runs production lines, a student attended a production about Steve Jobs and outsourcing.
During ETOPiA's inaugural year, Grayson chose to remount Copenhagen with the same director and cast as in Germany. The show brought a 500-person audience into the Technological Institute.
Each year Grayson watches ETOPiA grow; it now hosts audiences up to 1,000 each season. Grayson also produces three matinees each year for students from local high schools and community colleges. "They take a campus tour, visit laboratories, and see the play," he said. "We want to inspire them with the big picture of how science and technology play an important role in society."
And last year, he started producing individual performances for outside audiences. The 2013 production, The Agony and the Ecstasy of Steve Jobs, was performed during the spring and summer for visiting undergraduate researchers and prospective graduate students. Grayson imagines that they will eventually travel to perform at high schools, company events, and conferences. Because he chooses plays with only one or two characters that are typically one or two acts long, each production is mobile.
Grayson hopes that someday ETOPiA will "go viral." He plans to solicit new plays about technology—tailored to be performed under the ETOPiA banner—that could eventually be picked up by other performance groups around the country.
"There is such a rich theater tradition in Chicago," Grayson said. "If we can tap into that, we could launch new plays to spread stories about the human side of science and technology. With fears of nano-robots and suspicions toward climate change, theater plays an important role in mitigating misunderstandings about science and phobias about technology."
Upcoming and past ETOPiA plays include:
Grounded (now showing, reserve tickets here): A tale of isolation and lost dreams by Northwestern alumnus George Brant, Grounded examines how combat can take a psychological toll on drone pilots. The play introduces us to a nameless American female fighter pilot and chronicles several years of her life. After she unexpectedly becomes pregnant, she is reassigned to pilot drones from a windowless trailer in the Nevada desert.
The Agony and the Ecstasy of Steve Jobs (2013): A harrowing tale of pride, beauty, lust, and industrial design, The Agony and the Ecstasy of Steve Jobs by Mike Daisy illuminates how Jobs and his obsessions have shaped our lives. The play takes the audience all the way to China to investigate the factories where millions toil to make iPhones and iPods, shining a light on our love affair with devices and the human cost of creating them.
The How and the Why (2012): The How and the Why by Sarah Treem is a play about two female evolutionary biologists at opposite ends of their careers. It tells the story of Zelda, a Harvard professor, and Rachel, an NYU grad student, connected by their competing evolutionary theories about the female body, but their relationship actually goes far deeper.
A Number (2011): Written in 2002—six years after the highly publicized creation of "Dolly," the cloned sheep—Caryl Churchill's A Number explores the conflicts that arise between a father and his adult son, who learns that his father may have allowed his son to be cloned when he was a child. The play delves into the personal consequences of human cloning and how the power of replicating genetic identity may have unintended consequences.
QED (2010): Peter Parnell's QED is an up-close and personal portrait of Richard Feynman, Nobel laureate in physics, lifelong advocate for creativity and originality in science, as well founder of the field of nanotechnology and inspiration to young and aspiring scientists the world over. QED relives a day in the life of Feynman, storyteller extraordinaire, with all of the disjointed hobbies, fascinations, curiosities, stories, and quirky juxtapositions that made him a unique character in 20th century science.
Manya (2009): This one-woman drama written, directed, and performed by Susan Marie Frontczak exposes the struggles and triumphs of the discoverer of radium and radioactivity, Madame Marie Curie — an academically impassioned, vehemently private, fervently Polish scientist, mother, and teacher. From the political oppression of her childhood to scientific realization and fame to the tragedy that forced her into single motherhood as well as further world prominence, Manya's story reveals a compelling journey.
Copenhagen (2008): Michael Frayn's Copenhagen is set during World War II, when the friendship of two Nobel Prize-winning physicists is tested by the prospect of providing Nazi Germany with the atomic bomb. A mysterious visit by Werner Heisenberg to Niels Bohr's home in Copenhagen in 1941 brings these renowned physicists and dear friends together under trying circumstances and leads to an argument whose consequences may determine the fate of nations.