Education
Gloomy Economic Statistics Don't Tell Story of Scientific Progress
Northwestern professor Joel Mokyr argues that despite slow economic growth, science and technology continue to improve our quality of life
Read Mokyr's op-ed in the Wall Street Journal.
In an opinion piece titled "What Today's Economic Gloomsayers Are Missing" in the Aug. 8 edition of the Wall Street Journal, Northwestern professor Joel Mokyr argues that traditional economic growth measurements like GDP don't take science and technology into consideration.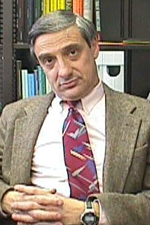 As the Robert H. Strotz Professor of Arts and Sciences and professor of economics and history at Northwestern, Mokyr specializes in economic history and the economics of technological change. Mokyr has given talks at the McCormick School of Engineering and Applied Science on the effects of the Industrial Revolution and the connection between science and technology. 
Those lessons are still invaluable today. "The responsibility of economic historians is to remind the world what things were like before 1800," he writes. Growth was slow, and most people lived short, poverty-stricken lives. When the Industrial Revolution and technological progress hit, life began to improve. "The consequences are everywhere, from molecular genetics to nanoscience to research in Medieval poetry," he writes. "As science moves into new areas and solves problems that were not even imagined, inventors, engineers and entrepreneurs are waiting in the wings to design new gizmos and processes based on the new discoveries that will continue to improve our lives."
But often such progress cannot be measured with the GDP. Such economic measurement will become increasingly misleading as innovation accelerates.
"These measures were designed for a steel-and-wheat economy, not one in which information and data are the most dynamic sectors. They mismeasure the contributions of innovation to the economy… Technology is not our enemy. It is our best hope."