Events
NUvention: Web Students Present Web-Based Startups
Highlights from the NUvention: Web course include Divit and VetCompare
Money is often the root of roommate problems: one roommate neglects to pay their portion of the utility bill while another eats food without contributing to the grocery fund. Splitting expenses can be tricky and asking each other for money can be awkward.
Now a student team is solving the problem with Divit, a mobile app that helps roommates manage their shared expenses. The application allows users to enter expenses and automatically split them among roommates. It notifies roommates of new charges and lets them pay each other through their smartphones.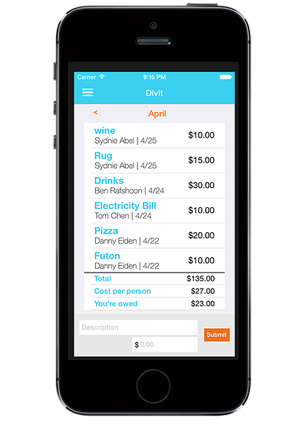 "Divit lets you spend more time hanging out, and less time worrying about money," says Divit developer and designer Danny Eiden, a senior in McCormick. "It breaks down who owes what and how much, so there's no room for disputes."
Divit was one of the ten new, student-created, online businesses introduced at the final presentations of NUvention: Web, a two-quarter course that requires students to collaborate across disciplines to design, plan, and launch web-based businesses. On Tuesday, June 10, members of the class "pitched" their final products to an audience of faculty, peers, guests, and members of the NUvention board of advisors.
Another NUvention: Web project, called VetCompare, allows pet-owners to compare pricing for veterinarians in their area. Prices can vary widely across different veterinary practices for the same procedures, but the price structures are difficult to find.
"There is not a lack of cheap vets," said Edward Brenninkmeyer, a member of VetCompare and Kellogg MBA candidate. "There is a lack of market transparency."
Members of the team asked Illinois veterinary practices and clients to submit prices for various procedures. The site already has a searchable database of 3,500 unique submitted prices. The VetCompare team members plan to expand beyond Illinois to serve the entire nation.
Other projects presented at the event include:
Alpaca: a tool to improve political campaign strategy using social media data-driven decisions
AthenaHire: an online platform for stay-at-home moms to find flexible, part-time, or project-based work
Outrovert: an online marketplace and community for outdoor enthusiasts
SEAM: a tool to improve meeting productivity
Stickie: an app to boost photo popularity on Instagram
STI Identify: a platform to verify the STI status of potential sexual partners
Swole Train: an app that acts like a personal trainer by building customizable workout plans
ZettaStor: a fast, simple, and secure data backup device
NUvention: Web is one of several popular entrepreneurship courses offered through the Farley Center for Entrepreneurship and Innovation's NUvention program. Other courses focus on energy, digital media, medical innovation, and devices to meet needs in resource-limited settings.