Graduate
MeterGenius Makes the Smart Grid Smarter
Student group MeterGenius offers a free website to help people take control of their electricity bills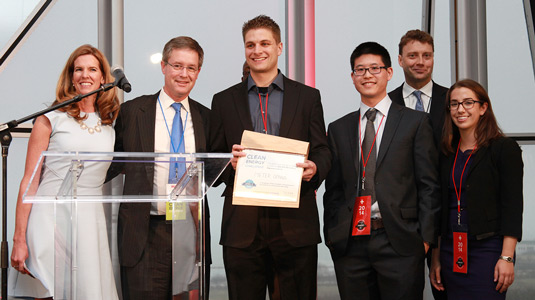 All across the United States, smart meters are slowly replacing the old, spinning dial meters that read homes' electricity usage. Smart meters take readings every 15 minutes and then transmit the data back to the utility company. They are more accurate, up-to-date, and cut out the need for a meter reader.
A Northwestern student group is working to make these smart meters even smarter. Born out of the NUvention: Energy course, the group—called MeterGenius—created a free website that allows homeowners and renters to take control of their electricity bills. The site gives smart meter users the ability to track electricity consumption, learn money-saving tips, compare themselves to neighbors, and receive bill credits for reducing energy.
"The original idea was to put hardware over outlets to monitor appliances and reduce vampire energy," says Ty Benefiel, head of business development and an MBA candidate at Kellogg. "But people don't want to pay for a device upfront in order to save."
After surveying multiple electricity companies, the MeterGenius team realized that retail suppliers had problems retaining customers, so they took advantage of this need. Retail electricity suppliers could pay the team to give customers access to MeterGenius, in order to increase customer retention and attract new customers.
Created by Yves Xie, McCormick PhD candidate in computer engineering, an algorithm forecasts electricity consumption, so users can budget accordingly and make adjustments to save money. Other members of MeterGenius are Yan Man, a PhD candidate in mechanical engineering; Fred Thwaites, who received his masters in mechanical engineering from McCormick last year; and Hillary Hass, a senior in physics.
MeterGenius launched a six-month pilot program with Infinite Energy, a retail electricity supplier in Texas. The feedback was overwhelmingly positive. "Users saw the detailed email that documented their electricity usage, and they showed it to all their friends," Benefiel says. "Then their friends started asking, 'How do I get that?'"
But MeterGenius's success did not end with customers' positive comments. The team also proved itself to be hard to beat in business competitions. In February, it won $10,000 in the Illinois Clean Energy Student Challenge, a business competition sponsored by the U.S. Department of Energy. This gave them a place in the Midwest Regional Clean Energy Challenge, where they received the $25,000 McCaffrey Interest Prize. MeterGenius was also a 2014 semi-finalist for the MIT Clean Energy Prize.
MeterGenius recently competed in the 2014 Arch Grants finalist competition in St. Louis, but it will not learn the results until later this month. In the meantime, the team of five will continue to help electricity consumers stop wasting and start saving.