Graduate
Analysis of Amazon Reviews Wins Hackathon
The daylong competition was a collaboration between McCormick's MSiA program and Teradata Aster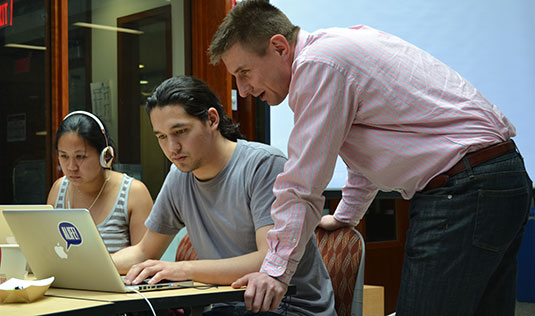 At the bottom of each product review on Amazon.com, there is a simple question: "Was this review helpful?" Reviews that are voted most helpful are pushed to the top while less helpful reviews get buried at the bottom.
By analyzing data from 500,000 Amazon reviews, a student team found that a set of characteristics inherent in the review could predict whether or not readers determined it helpful. The review's length, keywords, and even punctuation served as predictive variables. This analysis received first place in McCormick's Master of Science in Analytics (MSiA) program's first-ever Hackathon.
A collaboration between the MSiA program and leading analytics software company Teradata Aster, the Hackathon was a day-long competition during which students applied Teradata Aster's technology to provided data sets. Student teams could choose from eight publically sourced data sets: NFL or MLB statistics, Amazon reviews, State of the Union addresses, airline flight data, and U.S. consumer bank complaints.
"Students were able to find ways to analyze the data creatively by using their prior knowledge and additional external data sources," said Diego Klabjan professor of industrial engineering and management sciences and director of the MSiA program. "By using one of the most user friendly—yet extremely sophisticated—systems provided by Teradata Aster, they were able to effectively analyze the data in a short time frame."
At the end of the day, the student teams presented their findings to a panel of judges and their peers. Students were evaluated based on their abilities to think creatively about data in a limited amount of time. The first and second place teams will be sponsored by Teradata Aster to attend its Partners User Conference in Nashville at the end of October.
Peter Schmidt and Kyle Hundman made up the first place team. Second place was awarded to Bridget Hendricks and Alex Milut for their analysis of historical State of the Union addresses since 1790. Among other things, they found that former president Bill Clinton used the word "I" more than any other president in his address.
Northwestern's MSiA program teaches students skills that drive business success in today's hyper-competitive, data-driven world. Students learn to identify patterns and trends, derive optimized recommendations evaluated through simulations, interpret and gain insight from vast quantities of structures and unstructured data, and communicate findings in practical useful terms that help drive business management.
"Programs like Northwestern's Master of Science in Analytics are addressing a key skill set for business success," said Randy Lea, vice president of Teradata Big Data Practice. "Combining math, programming, visualization techniques, and business concepts in a program like this is developing the future analytical groups that our customers are building out in their organizations."
Victoria Richmond contributed to this article