Honors and Awards
McCormick Team Wins Motorola Competition
The team created a wearable ring that communicates with smart phones through gestures.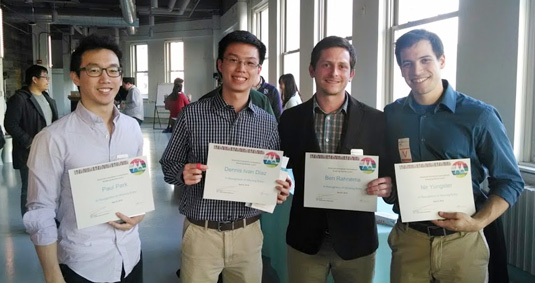 Through a series of Morse Code-like taps and holds, a team of McCormick graduate students is thinking differently about how we communicate with our smart phones.
The students created the "Moto Ring," a wearable plastic ring that connects with supporting software to enable gesture-based interactions with smart phone devices. Gestures such as a tap, double tap, or tap hold allow the user to answer the phone, send a text message, or play music without even taking the phone out of his or her pocket.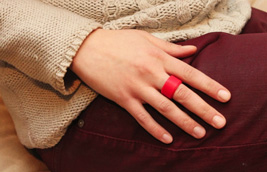 The Moto Ring creators placed first in Motorola's first-ever Breaking Mobile Limits Competition. The contest challenged Northwestern teams of four students to come up with original ideas for the next generation of mobile technology. Teams were judged and scored based on the following criteria: originality of concept, prototype implementation, ability to manufacture, ability to add to Motorola's next Moto device, use of innovative technologies, and overall improvement to daily life.
The winning team comprises Dennis Diaz in mechanical engineering, Paul Park in applied math, Ben Rahnema in electrical engineering and computer science, and Nir Yungster in applied math. The students also worked with a mentor from Motorola to develop their ideas.
"We had many ideas going into the competition," Rahnema says. "But it was a challenge to come up with something innovative that was also feasible to create and sell."
To keep costs low and make Moto Ring affordable for future consumers, the team printed the rings using McCormick's 3-D printing lab. Not only is printing an inexpensive method of manufacturing, but it is also allows for customizable features, such as different ring shapes, colors, and sizes. After printing the ring prototype, the team inserted a near field communication (NFC) chip. The NFC chip is the same technology used by Google Wallet, which enables the user to make secure payments by tapping his or her phone at a PayPass terminal.
For winning the competition, the team received a $2,000 cash prize, four Moto X phones, and the title of Motorola Engineering Ambassadors. The team will meet with Motorola executives this spring to discuss the next steps for the development and marketing of the Moto Ring.