Undergraduate
McCormick Students Share Global Experiences in Chat Forum
Undergraduate study abroad takes students to India, Scotland, Costa Rica, and other locations
Northwestern students have the opportunity to tackle some of the world's most pressing problems — whether they are outside their front door or halfway across the world.
Global connections are increasingly vital in today's academic, research, and business worlds, and McCormick is committed to preparing students for that reality with rewarding global experiences. Students may choose from a variety of study-abroad programs to match their academic and research interests, career goals, language skills, and cultural interests. Some programs are as short as a week, others as long a quarter or academic year.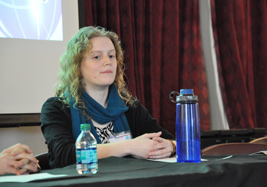 On January 30, students shared their study-abroad experiences in a Global McCormick Student Chat Forum. Six students discussed their travels to places like India, Scotland, Germany, and China, including the educational value of their trips, any hurdles they faced in planning them, and instances of culture shock they faced.
Rachel Scholes, a senior studying chemical engineering, traveled to Costa Rica over winter break through the Pura Playa ("pure beach") program with the student group Engineers for a Sustainable World. Stationed on the country's west coast, she spent 10 days conducting an environmental assessment on the accumulation and impacts of marine plastic debris on sea turtle breeding grounds. She also collected samples of marine plastic debris, which she brought back to Northwestern for analysis.
"The project really got me engaged in environmental research, and in particular, water contamination," Scholes said. "So much that I'm now planning to pursue a PhD in environmental engineering."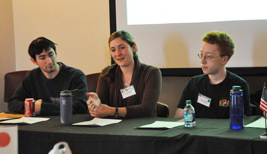 For Aliyah Lee, study in India provided a different, but equally valuable, lesson. Through a program of the Global Engagement Studies Institute, Lee spent eight weeks working with ALERT Sansthan, an organization that works on education, public health, and other development topics. Experiencing the work up close was eye-opening for her.
"I had previously been considering applying my engineering degree to work in development, but after my experience, I realized development work wasn't for me," Lee said.
Resources such as Northwestern's Study Abroad Office and the Office of International Program Development help match students with opportunities abroad, and externships may also be arranged through McCormick's Cooperative Engineering Education program. Other opportunities are available through student organizations.
For more information about study-abroad programs for McCormick students, visit global.mccormick.northwestern.edu.