Events
EECS Student Project Fair Spotlights Innovation at McCormick
More than 40 teams of undergraduate and graduate students competed in the annual event
From technologies aiming to improve healthcare, architecture, consumer products, and more, innovation was on display at the Department of Electrical Engineering and Computer Science (EECS) Student Project Fair February 21.
More than 40 teams of undergraduate and graduate students competed in the annual event that awards more than $2,500 in prize money. 
"What's impressive [at the EECS fair] is the depth of the different scientific skills as well as the breadth of the collaboration across disciplines that brings these innovations to life," said Goce Trajcevski, assistant chair and senior lecturer in the department. 
Some of the fair's projects included:
Software to save lives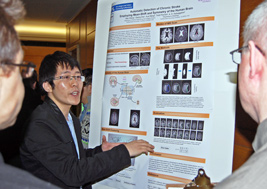 Creating a streamlined, time-efficient process for radiologists and physicians, fourth year PhD student Bao Wang presented software that provides an automated pipeline to identifying a chronic stroke lesion.
Used proactively, the software can screen a healthy individual's brain to detect abnormalities. Following a stroke, however, the same software can assess the patient's response to therapy and predict recovery.
"The beauty of this [software] is that we've taken a process that used to take days and reduced it to minutes. That time can help save lives," said Wang, whose work has been supervised by Aggelos Katsaggelos, AT&T Research Professor of Electrical Engineering and Computer Science.
Less language, more innovation
When it comes to programming robotic devices, student Tai Won Chung's project – "General Firmware for CM-530 and ROS Wrapper" – swaps the microcontroller for the PC. 
"This solves the problem of needing to write individual programs anytime you want the robot to act, as well as the problem of debugging," Chung said.
The development could prove particularly useful as an innovation-promoting educational tool. Using Chung's creation, for instance, beginning engineering students could focus less on the overwhelming details of programming language and more on game-changing robotic technologies.
High-speed motion and high resolution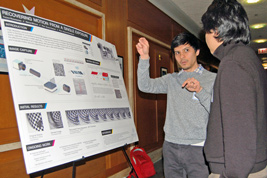 Addressing the hardware limitations that prevent high-resolution cameras from recording high-speed motion, PhD student Nathan Matsuda introduced a portable coded-aperture video camera that, using existing camera sensors, allows users to recover motion from a single exposure.
Matsuda, the project's co-author, says the camera offers potential to anyone who needs to capture high-resolution images at a high speed.
"From engineers working on automobile crash tests to biologists trying to understand nature, this will provide access to information that wasn't available before," Matsuda said.
The finger as video game controller
Using a depth camera to detect the position and gesture of the human hand, students Yin Xia and Jianhui Wang set up an interactive display demonstrating how gamers could use their own fingers to control a 3D video game gun. The method works in real-time, and its accuracy satisfies the requirements of gesture games.
"This is the newest way to interact with the computer, and this technology can also be generalized to other scenarios, such as robotics and graphics," Xia said.
Moving forward, Xia and his colleagues hope to advance their work by using consecutive frames to enhance the gaming experience and the 3D scene.