Announcements
Segal Design Institute Collaborates with Bruce Mau and Massive Change Network to Offer Executive Workshop in Design Thinking
Hands-on workshop to be offered in two sessions next summer
The Segal Design Institute, in partnership with Bruce Mau and Massive Change Network, has launched a new executive education initiative to put design-thinking methodology into the hands of business leaders. The Design for Non-Designers workshop will give participants a powerful, strategic tool they can use to lead their organizations toward more innovative products, services, and processes.
"This workshop gives corporate executives, entrepreneurs, and anyone involved in high-level decision-making access to the same problem-solving concepts we teach in our degree programs," says Segal Design Institute Director Greg Holderfield. "In collaborating with Bruce Mau and Massive Change Network, we are offering participants the opportunity to learn and experience design thinking methodology with one of its premier practitioners. Bruce Mau's many projects around the world are among the most successful examples of how the systematic application of design thinking results in innovative solutions in any industry and in any environment."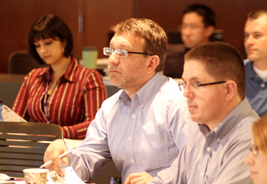 "Today, businesses that lead the way in design innovation are the most successful and competitive in their respective markets," says workshop leader Bruce Mau. "In this workshop, we will teach participants the basic principles of design thinking and guide them in applying this methodology to a real-world project. They will leave with the ability to use our methods to devise their own path-breaking solutions for their organizations."
The workshop will be an immersive, hands-on learning experience based on the 24Hours2Massive Change curriculum developed by Bruce Mau and Massive Change Network. Two sessions will be offered in 2014, June 15 to 17 and September 14 to 16, at the Segal Design Institute on Northwestern's Evanston campus.
Full workshop details and a registration form are provided on the workshop website. Early-bird discount pricing is in effect until Jan. 30, 2014. 
Segal Design Institute offers undergraduate and graduate degree programs and executive education for innovators and design thinkers while expanding the research frontiers of human-centered design. The school is located in the Ford Motor Company Engineering Design Center at Northwestern University, 2133 Sheridan Road, in Evanston, Illinois. 
Massive Change Network is a Chicago-based design publishing and education organization co-founded in 2010 by Bruce Mau and Bisi Williams to help individuals and organizations incorporate the ideas and practices of design thinking into their operations. Bruce Mau is the author of Massive Change and other notable design books. For 25 years, he led Bruce Mau Design, an interdisciplinary design studio based in Toronto.