Honors and Awards
Young Northwestern Alumna Wins Startup Competition, Praise from Warren Buffett
Hannah Chung delivers top pitch at Fortune's Most Powerful Women Summit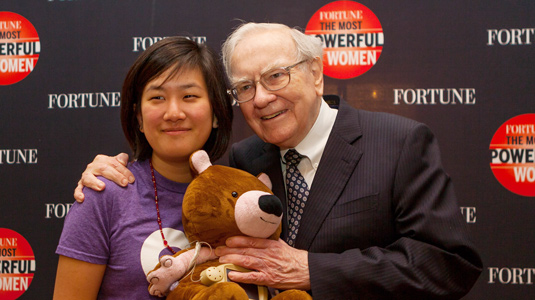 Hannah Chung, a recent McCormick graduate and co-creator of an educational toy for children with diabetes, won a pitch competition October 17 at Fortune's Most Powerful Women Summit.
Billionaire investor Warren Buffett, one of the contest's judges, complimented Chung on her "extremely good" presentation during the Perfect Pitch competition, in which four tech and science companies gave five-minute pitches to a panel of judges.
Judge Cathy Coughlin (WCAS '79), a Northwestern trustee and senior executive vice president and global marketing officer for AT&T, commented on Chung's vision. "I love the marriage of technology with this human problem," she said.
Other judges included Theresia Gouw, partner with Accel Partners, and Erica Landry Scheik, chief brand officer for Care.com. The judges responded to the pitches, and the audience voted to choose the winner.
Chung (mechanical engineering '12) and Aaron Horowitz (combined studies, mechatronics and user interaction design '12) co-founded Sproutel, a startup that makes interactive games for children with chronic illnesses. Their first product is Jerry the Bear, an interactive, robotic toy for children with type 1 diabetes.
Using voice technology and a touchscreen, Jerry tells children when his blood sugar is low, and kids can respond by checking his glucose levels and feeding him various foods. The toy is intended to reinforce the new, often overwhelming practices taught in the doctor's office.
"We are leveraging type 1 diabetes, which is a small niche market, to hone and develop our product," Chung told the judges. "Our goal is to own this market, understand how kids learn through a robotics medium, and bring our model to autism, asthma, and even obesity to serve the 32 million children with chronic illnesses in the United States."
Held October 15 to 17 in Washington, D.C., the Most Powerful Women Summit is an invitation-only event that convenes preeminent women in business, government, and other areas for wide-ranging and inspiring discussions. Other attendees of the 2013 summit included McCormick alumna Ginni Rometty ('79), chairman, president, and CEO of IBM; businesswoman and Lean In author Sheryl Sandberg; Yahoo! CEO Marissa Mayer; Deborah DeHaas, a Northwestern trustee and chief inclusion officer of Deloitte; and Sally Blount, dean of Northwestern's Kellogg School of Management.
"It meant a lot to pitch in front of these amazing women," Chung said, "especially with all the Northwestern support in the audience."
Chung is one of the co-founders of Design for America (DFA), a Northwestern student initiative that creates local and social impact through interdisciplinary design, Jerry the Bear was conceived through DFA while Chung and Horowitz were at McCormick. During her senior year, Chung was named on Inc. magazine's list of "15 Women to Watch in Tech."