Undergraduate
Student Design Project SparkTruck Wins Fast Company Award
McCormick junior Rachel Star among students recognized for cross-country design mission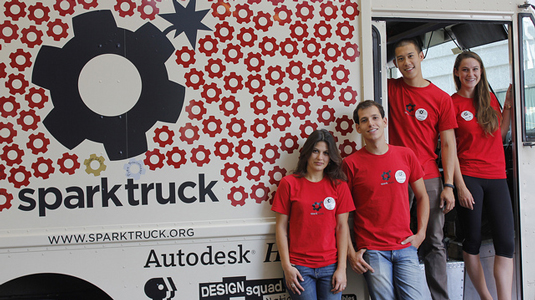 SparkTruck, a truck that introduces 3D printing technology and other hands-on building tools to kids around the country, has won an Innovation by Design Award from Fast Company magazine.
"We are absolutely thrilled about the award and are so thankful to Fast Company for their support throughout the project," said project member Rachel Star, a Northwestern junior majoring in manufacturing and design engineering (MaDE) at the McCormick School of Engineering and psychology at the Weinberg College of Arts and Sciences. "It's amazing to look back and see how far we've come. "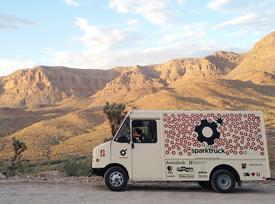 Working with partners from Stanford University, where SparkTruck got its start, Star spent summer 2012 traveling the country and leading dozens of free workshops for kids and their parents, many in low-income areas. Working out of the back of the truck, the team gave kids the chance to work with hammers, nails, glue, paint, and also high-tech tools like laser cutters and 3D printers. 
Last spring, the team taught a class on SparkTruck at Stanford's design school, where they recruited a new team of "sparkees." That second-generation team recently completed their second trip across the country.
"As our judges discussed, (SparkTruck's) core idea may not be all that novel," Fast Company's website notes. "But when applied to underprivileged school districts desperate for funding, SparkTruck becomes a timely, practical intervention to spread education, opportunity, and the next era of jobs to a generation."
The Innovation by Design Awards celebrate the "brilliant, inspiring ways designers are solving the problems of today and tomorrow." Roughly 1,200 entrants completed for awards in categories like transportation, social good, and interactive. SparkTruck won the student category.