Announcements
McCormick Welcomes Class of 2017, New Graduate Students
Largest-ever incoming class settle in during Wildcat Welcome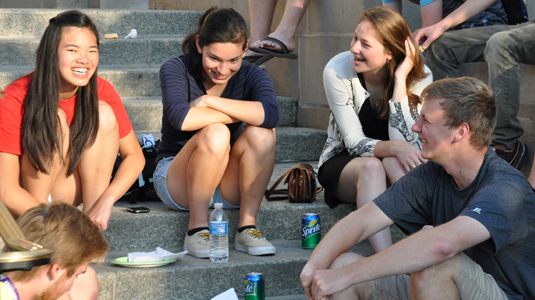 They have arrived.
The McCormick School of Engineering and Applied Science welcomed its largest-ever incoming undergraduate class this week, along with a cohort of more than 400 master's and PhD students.
More than 2,000 members of Northwestern's Class of 2017 descended upon the Evanston campus, bringing with them great expectations — and a fair share of nerves.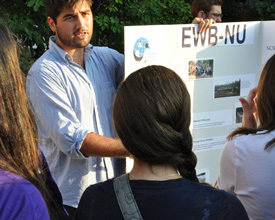 After marching through the Arch on Tuesday morning, the purple-clad students were welcomed by University President Morton Schapiro and other University and student leaders.
"I just hope you love it here," Schapiro said. "It's a wonderful community full of the greatest Midwestern values like civility, empathy and perseverance. Enjoy every minute of it! Go 'Cats!"
With 410 students, McCormick's Class of 2017 is the largest incoming class ever, but it's notable not just for its size, but for its smarts. The students' average SAT score is the highest ever, at 1480; just one student out of seven were accepted to Northwestern, a rate of 13.9 percent. The group is diverse: hailing from 37 countries, international students make up 20 percent of the class. Twenty-eight percent are female, compared to a national engineering average of 18. Their most popular majors so far are biomedical engineering, mechanical engineering, and computer science. 
The students have been getting to know each other through several days of Wildcat Welcome activities. Wednesday brought McCormick's Convocation event, where students were welcomed in Tech's Ryan Auditorium.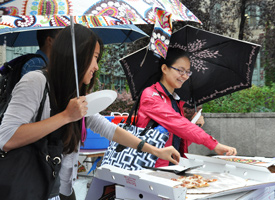 "Over the next four years, your McCormick education will give you the tools you need to have a lifetime of impact," said Dean Julio M. Ottino. "During your time at McCormick, we are committed to helping you create the best possible first draft of yourself. You will choose who you want to be, and where you want to go, and how you will impact the world. We are here to support you."
McCormick senior Raj Kumar gave the freshmen three pieces of advice for maximizing the next four years: be aware of yourself, reach out to others, and measure your own success. The work will be challenging and there may come a time when you need help, he told them; don't be afraid to ask. 
"Failure is not admitting defeat. It's just an opportunity to find other roads to success," he said. "Asking for help and seeking guidance is something that helps us grow and enrich together."
More than 400 new graduate students — 151 PhDs and 256 master's — also arrived on campus this week. This marks the largest incoming group of master's students ever, including dozens of BS/MS students who received their bachelor's degrees from Northwestern last spring. 
Their orientation activities included a lunch hosted by the McCormick Graduate Leadership Council, a student-run organization that promotes a sense of community among McCormick graduate students.
Fall classes begin Tuesday, September 24.