Events
Design for America Tackles Urban Flooding at Third Annual Leadership Studio
Students from 18 chapters use design skills to create local and social impact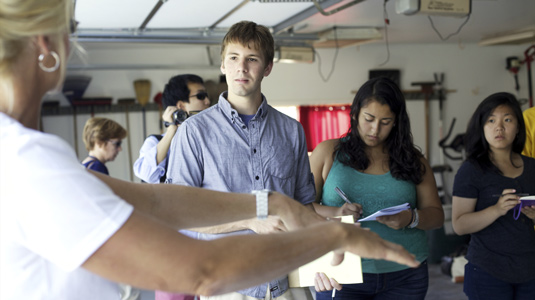 Cities in the Great Lakes Region experience frequent flooding, and homeowners face the repercussions: sewer backups, property damage, and waterlogged basements, not to mention potential health problems and costly cleanups. The National Weather Service estimates flood damage in the United States at more than $7.8 billion per year.
College students from across the country gathered at Northwestern University this month to develop solutions to help communities prepare for, respond to, and recover from flooding. The project is part of Design for America (DFA), a McCormick student initiative that creates local and social impact through interdisciplinary design
Design for America held its third annual Leadership Studio at Northwestern from August 8 to 12, bringing together 40 students from 18 DFA studios across the country for an introduction to the group's unique design processes.

Returning to the Leadership Studio were students from Northwestern, Barnard College/Columbia University, Case Western Reserve University/Cleveland Institute of Art, Cornell, Dartmouth, the Rhode Island School of Design/Brown University, Stanford, the University of California-Berkeley, the University of California-Los Angeles, the University of Illinois, the University of Oregon, Vanderbilt, Virginia Tech, and Yale. New attendees from Duke, Baltimore, Rice, and the University of California-Davis also attended to learn how to begin chapters at their schools.


Design for America was conceived at McCormick in 2008 to enable students to learn design through service projects. The group's projects have included Jerry the Bear with Diabetes, an animatronic bear that educates children about the disease; hygiene solutions to prevent hospital-borne infections; and dishwashing solutions to save water in cafeterias, among other projects. In 2011, the group began expanding to other campuses across the country.
During the four-day Leadership Studio 2013, students learned DFA's values and processes out in the field. They learned about flooding concerns through interviews with experts from the Center for Neighborhood Technology and the Red Cross and also visited flood victims' homes throughout the Chicago area. The research was followed by ideation and prototyping of design solutions, from community organizing and tool sharing to grassroots alert systems to mobilize neighborhoods when floods are coming.
The experience was enlightening for the students. "They'll take this information back to the classroom and brainstorm possible solutions," said Sami Nerenberg, DFA's program administrator. "This is a learning experience for the students, but we also hope to tell the story and provide some possible solutions."
The DFA students have been invited by the Federal Emergency Management Agency to conduct follow-up projects this fall on natural disaster relief. They will be connected to regional offices in their home school's area.