Events
McCormick Seniors, Graduate Students Celebrate 155th Commencement
"Our school is a better place because you were here," Dean Julio M. Ottino tells graduates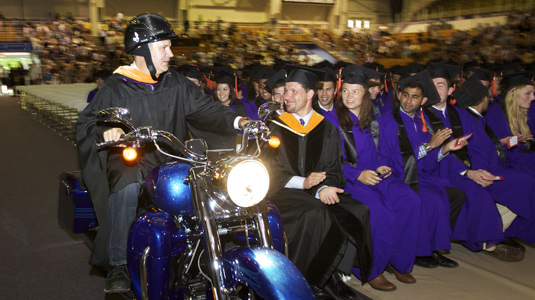 Northwestern University's McCormick School of Engineering celebrated the graduation of its undergraduate Class of 2013 and hundreds of accomplished master's and PhD students on June 20, 21, and 22 as part of Northwestern's 155th Commencement.

Purple-clad graduates from across the University gathered at Ryan Field Friday morning for the main Commencement exercises, which featured a speech by Mikhail Baryshnikov, founder and artistic director of the Baryshnikov Arts Center, critically acclaimed film, television and theater actor, and one of the world's greatest ballet dancers.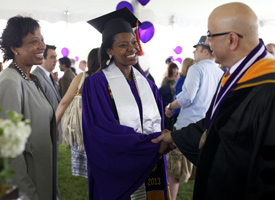 At McCormick, undergraduate celebrations continued Saturday morning with McCormick's Undergraduate Convocation, held in the Welsh-Ryan Arena. McCormick Dean Julio M. Ottino commended the 364 graduates for their hard work and dedication, and spoke of the bright futures that lay ahead of them.

"Our school is a better place because you were here," Ottino told the graduates. "As you set out to begin your careers, I am confident that you will discover that you are a better person because of your time at McCormick. I am inspired by the career paths and life options that you will pursue."
The keynote speaker at the Convocation was Matt Levatich (MMM '94), president and chief operating officer of Harley-Davidson Motor Company. After riding into the stadium on a motorcycle, Levatich spoke to the graduates about the importance not just of hard work, but of understanding your personal motivations in life — knowing not just your "what" and 'how," but your "why."
"For me, I love the challenge that exists in the tension of two seemingly opposing things," Levatich said, using as an example the intersection of art and science, form and function. "Understanding my "why" informs every decision I make and brings meaning and purpose to my life. You understanding your "why" can do the same for you. 
"It will help you hone in on what path to pursue and who you should be, both personally and professionally," Levatich continued. "It will help you live the life you're meant to live. It will help you choose well at every fork in the road."
At the ceremony, three teams of students were awarded the Mickelson Prize. Modeled after the Margaret and Muir Frey Memorial Prize for Innovation and Creativity, the competition recognizes the seniors who submit the best insightful, innovative, and/or creative project.

Wining the prize were:

First prize: Jonathan Lamano, Grace Bushnell, Hongyu Chen, and Avanti Badrinathan for "Intracranial Aneurysm Endovasular Coil Embolization Force Measurement: Research and Training System"
Second prize: Frank Cummins, Matt Doerfler, and Ewa Glowik for "Infant Warming Device for Pediatric Surgeries at the University College Hospital Ibadan in Nigeria"
Third prize: Timi Chu, Nam Ryul Kim, Wesley Sutton, and Stanley Weng for "Heel Stick Medical Simulator"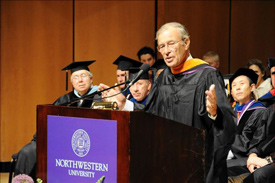 Four additional undergraduate prizes were awarded. The Ovid W. Eshbach Award was presented to Mark Ellison Fischer; the McCormick Alumni Award was presented to Brittany Lauren Croone; the Harold B. Gotaas Undergraduate Research Award was presented to Julian Minuzzo; and the Co-op of the Year Award was presented to Darien Rae Hanington.

Following the ceremony, the graduates and their families gathered outside at a reception outside the arena for photo-taking and celebration with McCormick faculty.
On Thursday and Friday, McCormick's 445 graduating master's students and 141 PhD students were recognized in ceremonies in the Ryan Family Auditorium in the Technological Institute.
McCormick's Master's Degree Recognition Ceremony, held Thursday morning in Pick-Staiger Concert Hall, featured a keynote address by Richard H. Tilghman, senior vice president of Pepper Construction Group, president of Pepper Environmental Technologies, Inc., and secretary of Pepper Construction group and the Pepper Companies, Inc. Tilghman shared advice for succeeding both professionally and personally — from exceeding expectations with customers to maintaining a well-thought-out work-life balance.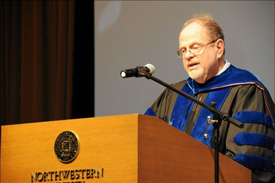 The following day, PhD graduates gathered for McCormick's PhD Hooding Ceremony, where the address was delivered by Joseph Schofer, professor of civil and environmental engineering, associate dean for faculty affairs at McCormick, and director of Northwestern's Infrastructure Technology Institute. 
"Women and men of the McCormick PhD class of 2013, I speak on behalf of your teachers, mentors, friends and families when I wish you challenges, adventures, the willingness to ask why, to take risks, to look out the front window, to stay connected, to get to the bottom of things, and to pay it forward," Schofer said. "These ideas will bring you success and most important, they will bring you satisfaction."
In parting, Dean Ottino urged the graduates to maintain their connections to McCormick.
"Although your careers may take you far from campus, we hope to see and hear from you on a frequent basis," Ottino said. "As alumni, you are the source of our value. We are only as good as the people that we produce."