Events
NUvention: Web Students Launch Software-Based Startups
iPad note-taking app, gift recommending website, and presentation tool among projects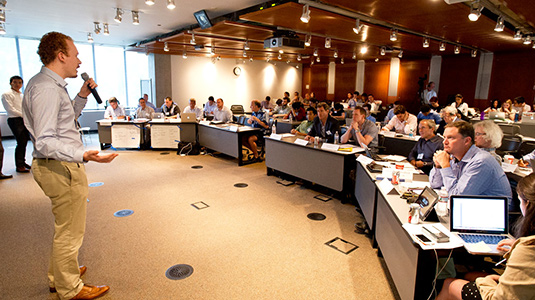 For Northwestern students, June brings exams, final papers, and gearing up for summer.
For students in Northwestern's NUvention: Web course, June brings the launch of a company.
Over the past nine months, graduate and undergraduate students in NUvention: Web have been bringing their ideas for a software-based startup to life. Students work in multidisciplinary to brainstorm, design, and build their company, presenting their work quarterly to an advisory board that offers feedback on branding, growth prospects, customer acquisition strategies, and revenue models.
On June 11, 10 teams of students presented their final projects to the industry experts and entrepreneurs of the advisory board. Their projects included:
Blinkfire Analytics, a product that provides social media analytics for sports teams
Chisel, an iPad note-taking app available in the Apple app store
Confr.us, a web app that allows conference-goers to connect with other attendees prior to the conference
Giftique, a site that provides customized gift recommendations 
HaamLock, a bike lock and companion smartphone application that controls the lock and warns the user about theft-prone locations
LicenseBuddy, a tool that helps licensed professionals track and stay up to date with continuing education.
MentorHip, a site that connects parents on Chicago's North Shore with classes and activities for their children
Podium, software that makes it easy for speakers and salespeople to improve their presentations by electronically disseminating their talks and gathering and consolidating in-context comments
Wedloom, a website that connects soon-to-be-wed couples planning their nuptials with ideas and live wedding planners
Wellbe, a web search tool that provides information for people seeking natural and alternative medicine treatments for chronic disease
Several teams are already seeing success outside the classroom. Chisel was dubbed "the only note-taking app you'll ever need" by AppAdvice.com and has received 1,700 downloads in Apple's app store. License Buddy was recently accepted to the DreamIt incubator in New York.
Northwestern's popular NUvention program — a slate of several entrepreneurship courses on energy innovation, Web-based businesses, digital media, medical innovation, and devices to meet needs in resource-limited settings offered through the Farley Center for Entrepreneurship and Innovation — has spawned a number of startups that achieved significant success. 
Earlier this year, two NUvention companies — SiNode Systems, a clean tech startup founded in NUvention: Energy, and BriteSeed, the creator of a surgical tool developed in NUvention: Medical Innovation — won more than $1 million combined in the Rice Business Plan Competition.