Events
William Woodburn on Engineering Thinking and Business Success
Global Infrastructure Partners co-founder spoke May 21 at McCormick Dean's Seminar Series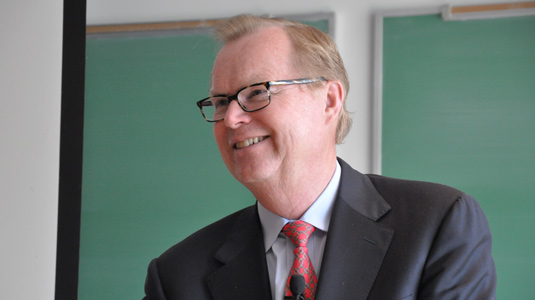 Watch William Woodburn's presentation.
For William Woodburn, a background in engineering was the perfect segue into a career in business. 
As founding partner of Global Infrastructure Partners, one of the world's leading infrastructure investment firms, the McCormick alumnus frequently draws on engineering's lessons: how to solve problems, pay attention to detail, and excel with numbers and processes.
"Sometimes (businesspeople) think what they want to think," Woodburn said May 21 in his talk, "Engineering Thinking: How an Analytical Mindset Can Drive Business Success," part of the McCormick Dean's Seminar Series. "Numbers tend to be rooted in reality."
For Global Infrastructure Partners, those numbers tell a story of success. Founded seven years ago, the company is a multinational private equity firm specializing in the energy, transportation, and water and waste sectors. Using capital from pension funds, sovereign wealth funds, and other high-wealth investors, the firm manages — and often transforms — operations at airports, power plants, and seaports around the world.
In growing the company, Woodburn had a thought: could engineering strategies of the industrial world drive investment returns in the infrastructure world? He turned to process improvement tools crafted for industry: Six Sigma, which seeks to improve outputs by removing the cause of defects and minimizing variability, and lean manufacturing practices, which seek to eliminate wasteful, non-customer-directed resource expenditures.
The results have been powerful. In 2009, Global Infrastructure Partners took over operations at London's Gatwick Airport. Four years and a $500 million investment later, revenues have increased 9 percent in a struggling economy.
How? Through revitalizing processes, Woodburn said, from improved efficiency at check-in to larger bins at security scanners. As a result, check-in time has been cut in half; security productivity has increased by 50 percent with wait times almost always under five minutes; and baggage processes have been redesigned with efficiency in mind. 
Runway efficiency was also put under a magnifying glass. With 50 "moves" per hour, Gatwick already had the single busiest runway in the world; Woodburn initiated a "Drive for 55" to increased runway productivity even further.
Process optimizations like these "allowed us to squeeze more juice out of the lemon," Woodburn said, and they also gave Global Infrastructure Partners the opportunity to redefine the airport's culture, reaching out to its 9,000 mostly-hourly employees to get them invested in success and moving toward a shared goal.
"If you can get people generally heading west, you're much better off when there's chaos," Woodburn said.