Undergraduate
'Aperture Robotics' Takes First Place in Student Robotics Competition
Thirteen student-designed autonomous robots battled in 22nd annual Design Competition.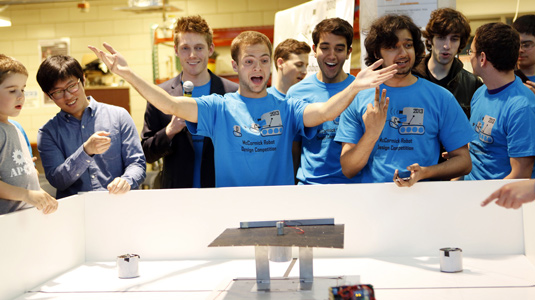 Cheered on by their creators, 13 student-designed robots competed in an arena-style battle on Saturday, May 18 at the McCormick School of Engineering's 22nd annual Design Competition.
Thirty-six undergraduates representing a variety of engineering fields worked on teams to create the robots, which had to be designed to operate autonomously, without the use of remote controls, and fit inside a one-foot cube. 
That process, conducted over two quarters, entailed building the robots from scratch using laser-cut wood and acrylic and writing code and logic that would enable them to sense and capture moving objects. (The robots are made up of various parts, such as microprocessors, actuators, motors, gears, and electronic sensors.)
In this year's challenge, the robots were given three minutes to find and collect as many small "prey" robots — three-inch-tall, moving retroreflective cylinders — as they could. Each prey robot collected earned the team one point; if the prey was returned to their robot's home base, or "nest," the team earned three points.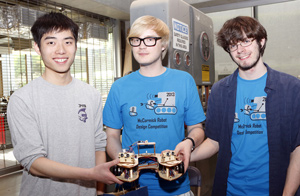 The teams battled one-on-one in three-minute rounds. The team with the most points advanced to the next round until only one team remained.
The top-scoring teams were:

1st Place: "Aperture Robotics," team members Georgiy Mazin, Kevin Ye, and Seth McCammon
2nd Place: "Hip-Hop Robotimus," team members Matthew Weathered, Dylan Barstow, and Elliot Hevel
3rd Place: "Brobotics," team members Jake Vander Ploeg and Sam Schwartz
The Myke Minbiole Elegant Engineering Award was awarded to "Aperture Robotics."
 "Aperture Robotics" featured a unique scooping mechanism with two motors that enabled the robot to return four prey to their nest, earning 12 points. And in a Design Competition first, two teams — "Swarm" and "Nice Shoes" — opted to have their robot split into four smaller robots in an effort to maximize their prey-catching capabilities. 
Many of the participants were students in DSGN360: Design Competition; other competitors took part for fun. 
The 2013 Design Competition was sponsored by DMC, SpaceX, and Advanced Circuits.