Events
Panelists Discuss 'Leadership by Design' at Design:Chicago 2013
Executives discuss how design affects companies — all the way to the top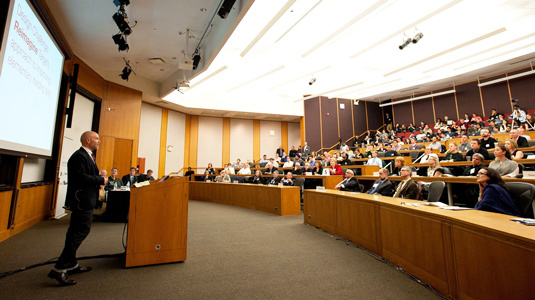 Watch the Design:Chicago 2013 presentations.
Good design might end with a great product, but sometimes it begins in the boardroom. 
A focus on design principles can have a positive impact on every level of a company, all the way up to the CEO. Of course, that emphasis on "design thinking" doesn't always happen naturally, especially in today's challenging corporate landscape. How can business leaders structure their organizations to harness and use design as a competitive strength and opportunity for change?
A panel of business leaders shared their thoughts on achieving "Leadership by Design" at Design:Chicago 2013, a seminar hosted April 10 by Northwestern University's Segal Design Institute, Master of Product Design and Development Program, MMM Program, McCormick School of Engineering, and Kellogg School of Management. 
Now in its sixth year, Design:Chicago brings together the Northwestern community, the public, and top designers and executives from the professional world to discuss key topics and challenges in design — a key pillar of the Northwestern University Strategic Plan. 
Design:Chicago 2013 began with remarks from Matt Levatich (MEM, '94, Kellogg, '94), president and chief operating officer of the Harley-Davidson Motor Company. For Harley-Davidson customers, Levatich explained, the iconic motorcycle company is more than a good-looking bike: it's a statement of personal freedom and individuality.
"There aren't a lot of brands that you'd tattoo on your body … and there's a lot of Harley ink out there," Levatich said. For designers, the goal is to create bikes that capture that sentiment. 
"Form follows function, but they both report to emotion," Levatich said, quoting Willie Davidson, former senior vice president and chief styling officer of Harley-Davidson.
While the biker mentality is great for the brand, the attitudes that give Harley its personality — think "my way or the highway" and "stick it to the man" — are sometimes at odds with running a successful company, Levatich explained. This can be a particular challenge when creating brand consistency with the company's 1,400 dealerships, which are independently owned, often by businesspeople with big personalities.
But Levatich knew discipline was key to success, so in 2009, the company began rethinking how it approached design. The result was a reduction in the motorcycle design cycle from five years to three — the quickest in the industry. The benefits were clear: by cutting the design cycle by 40 percent, the company added significantly to its capacity to create new products.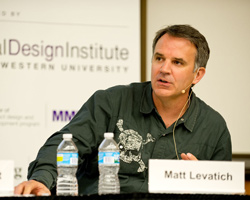 "We've done it by being purposeful and deliberate in how we approach design," Levatich said. "The product is emotional, but the design process can't be."
Appealing to a very different clientele, Kohler has been making bathtubs, faucets, and other bathroom and kitchen fixtures since 1883, when founder John Michael Kohler found inspiration in a cast iron horse trough. Today the Wisconsin-based company is known for pushing boundaries, with designs like ultra-deep, overflowing bathtubs and toilets that look more like high-end furniture.
Forward-thinking designs like these require an organization-wide commitment, said Hugh Ekberg (MEM, '94, Kellogg, '94), Kohler's president, Kitchen & Bath Americas. "Design must be core to philosophy," he said.
Kohler's organizational structure creates "good, healthy conflict," sparking competition and creativity throughout the various departments. And its focus on design goes all the way to the top: Kohler's CEO and other executives attend twice-monthly design team meetings, where they actively participate in design reviews.
Not all good design has to be beautiful. That was one of the greatest lessons learned by Bob Plaschke (McCormick, '85), chairman and CEO of Sonim Technologies, provider of the world's toughest cell phones. 
When a re-focusing of the company led Sonim into the cell phone market in the late 2000s, Plaschke was sure their new, super-rugged phone would be a flop for one reason: it was ugly.
What Plaschke didn't understand then was that his customers — electricians, pipe fitters, garbage truck drivers, and other people who work in harsh conditions — weren't interested in good-looking phones; they wanted functional phones. "People that buy (our) phone look at it and know it will not break," he said.
Understanding Sonim's place in the market came with its share of managerial blunders, such as a partnership with the mighty-but-upscale LandRover; "LandRover has a great story, but it's not our story," Plaschke said. 
But Sonim's leadership also made some important discoveries about the design process that has turned the company into a success story. When the company issued a public challenge to customers to try to break their phone, the customers didn't hesitate; broken phones poured in from around the world, along with YouTube videos of phones subjected to steam rollers and high-powered blenders.
But inevitably, the challenge worked to their advantage. "We had gotten customers involved in the design process," Plaschke said. 
For other companies, a product's aesthetic appeal is just as important as its functionality. Take Logitech, a global provider of personal computer accessories such as keyboards, mice, and speakers.
The $2-billion company's success boils down to a melding of art and science, explained Bracken Darrell, Logitech's president and CEO, pointing to the clean lines of its wireless speakers to a solar-powered iPad folio that charges the device off ambient light.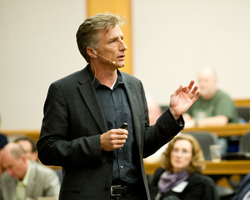 "Everybody has to go there," Darrell said, speaking of bridging the gap between right- and left-brain thinking. "It's imperative."
Darrell, who joined Logitech as president in April 2012, noted several design principles that guide his company's strategies at every level. Products should represent one powerful idea, he said; designers and executives alike must fight the tendency to pile too many extraneous functionalities into one design. Designs should have a "soul" that is expressed in each layer of the product, no matter how seemingly inconsequential the detail; power cords, packaging, and user instructions should be treated with extraordinary care.
Of course, what's inside these high-tech products is equally important. A rigorous pursuit and application of science influences everything the company makes, Bracken says; simplification of products is also key. "Steps can always be removed," he said. Lastly, the company strives to exceed expectations, and even to surprise.
At Target, design is a key strategy used to differentiate the company from its competitors. Through 80 storewide partnerships with the likes of product designer Philippe Starck and fashion designer Jason Wu, the retailer gives its customers unique goods only available at Target's 1,800 stores.
But design affects more than just products, said Patrick Douglas, associate design director of Target's IDEAS Team, an internal innovation and user experience design consultancy. Given the company's emphasis on community service — it is on track to donate $1 billion to education by the end of 2013, Douglas said — the Target team decided to apply their design talents in a new area: reimaging the retailer's approach to improving elementary reading skills.
The result was a series of boot camps called "mobile innovation labs," in which students, teachers, parents, Target employees and executives, and government and nonprofit partners gathered together to brainstorm new ways to improve literacy. The stakes were high: children that can't read proficiently by the end of third grade are four times likelier to drop out of high school.
While the results were promising — some 540 ideas came out of the sessions — the greater success was challenging everyone's thought process, from the kids all the way up to the executives.
"It's more about the big ideas or the innovation process," Douglas said. "It's about changing the way we work."