Events
Match.com Founder Gary Kremen to Headline Entrepreneurship Conference
Kremen and Adaptly co-founder Nikhil Sethi to present at Entrepreneur@NU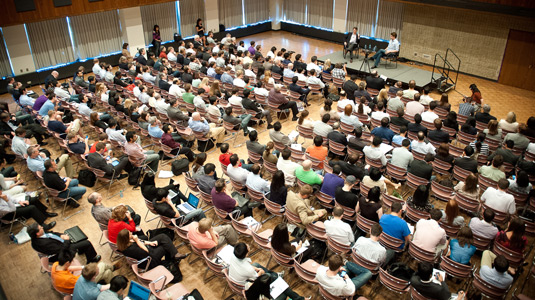 Entrepreneur@NU, Northwestern University's third annual entrepreneurship conference, will bring together hundreds of business leaders and budding entrepreneurs on Wednesday, May 8. Two notable Northwestern alumni, Match.com founder Gary Kremen and Adaptly co-founder Nikhil Sethi, will give keynote speeches. This year's conference will focus on the theme, "Pivot to Success."

The conference, hosted by Northwestern's Farley Center for Entrepreneurship and Innovation, will be held from 8:30 a.m. to 6 p.m. at Norris University Center, 1999 Campus Drive, on the Evanston campus.

The event is open to the public, but advance registration is requested.

The goal of Entrepreneur@NU is to connect and facilitate the growth of the startup ecosystem in Chicago, both for university and non-university entrepreneurs. In addition to the Northwestern Venture Challenge — where startups compete for a cash prize — the event will include panels on topics related to starting a business and the business model canvas. Among these topics are developing customer relationships; building key partnerships; and discovering your customer segment.

Participants may also sign up for free legal and career management clinics as well as lunch with venture capitalists.
The conference will also include a remembrance of James Farley (McCormick '50), an electrical engineering alumnus whose generous donation to Northwestern endowed the Farley Center for Entrepreneurship and Innovation in 2008. Born a farm boy in Kansas, Farley spent his career building a small manufacturing company into an international corporation. He passed away in August 2012, leaving behind his wife Nancy, five children, and 16 grandchildren.

Keynote speaker Kremen (McCormick '85) is an entrepreneur, inventor, executive, and investor with more than 25 years of experience with emerging growth companies and developing information technology. In addition to Match.com, Kremen founded the consumer finance business Clean Power Finance and other companies, including Sociogramics and Grant Media Management.

Sethi (McCormick '10) founded Adaptly, a service that allows businesses to buy ads simultaneously on multiple social network ad platforms. Described as a "social media advertising megaphone," the company has grown into a multi-million-dollar enterprise with customers like Kraft Foods, Showtime, and PepsiCo. Sethi and his partner first conceived of the idea for Adaptly in Northwestern's NUvention: Web course.

In addition to the Farley Center for Innovation and Entrepreneurship, Entrepreneur@NU is sponsored by Northwestern's McCormick School of Engineering and Applied Science, Kellogg School of Management, Innovation and New Ventures Office, Harvey Kapnick Business Institutions Program, NUCATS Clinical and Translational Sciences Institute, Northwestern Alumni Association, NUventure Challenge, and InNUvation.

For more information or to register, visit entrepreneur.northwestern.edu/conference/2013.