Announcements
Latest McCormick-Shedd Aquarium Partnership Featured on NBC Nightly News, Today Show
Freshmen students design "shoe" for injured penguins
At the McCormick School of Engineering's Segal Design Institute, students often work to solve problems they've never considered for people who need them most. But when the projects involve clients at one of Chicago's most revered institutions, the challenges go beyond the realm of humans.
Penguins that need shoes? Fish that need surgery?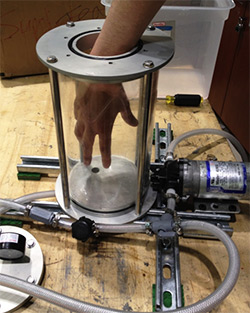 McCormick students are up to the task. Their successful designs, and McCormick's seven-year-old partnership with Shedd Aquarium, were featured on the Today Show, NBC Nightly News, and on the front page of the Chicago Tribune. 
The featured project, a "shoe" for penguins with sore feet, was designed by freshmen in McCormick's Design Thinking and Communication course, where student teams work with outside clients to solve problems. In the course, students learn to interview and observe the client, brainstorm possible solutions, create prototypes, and ultimately communicate their ideas back to the client. The course is co-taught by faculty in Weinberg College of Arts and Sciences' Writing Program.
Students were tasked with designing a waterproof shoe that could protect a penguin's foot while allowing it to walk, swim, and stand comfortably. The selected design, dubbed the "Tuxedo," is less like a shoe and more like a six-winged bandage with a neoprene insert to protect the sore. It wraps around the contours of the penguin's foot and between its toes, allowing it to maintain the flexibility and comfort needed to swim and walk.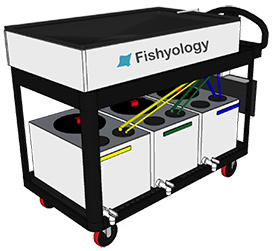 "They realized that the real need is sometimes not what somebody might say. It is easy to say, 'We need shoes to protect their feet.' What they really needed was to protect the sore part of the foot," said Stacy Benjamin, senior lecturer with Northwestern's Segal Design Institute, in the Chicago Tribune article. "The students learned that if you force yourself to think broadly and dive down to the root causes and issues, sometimes you end up redefining the problem."
The penguin bootie is one of several helpful devices McCormick students have produced for the Shedd. Upper-level students also developed a decompression tank for sea horses and an anesthesia system for fish surgeries, which is now in use at the aquarium. The system provides a table for surgeries and a system for controlling the dosage of anesthesia.
Read more about McCormick's partnership with the Shedd Aquarium in the
Chicago Tribune, and watch more coverage on The Today Show.