Events
IBM Executive Stephen Gold Speaks on the Future of Jeopardy!-Winning Watson
From quiz shows to health care, Watson makes its move into business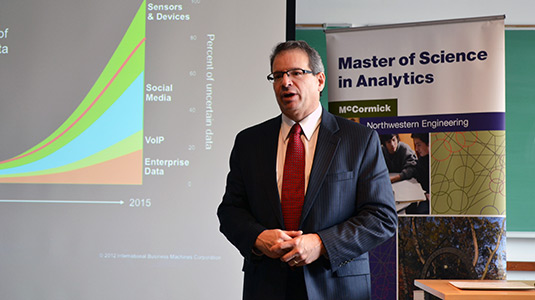 In this age of big data, information is increasing at an astounding pace, and the medical field is no exception. The amount of medical data in journals and other publications doubles every five years, making it difficult for even the most efficient physicians to keep up.
Researchers at IBM believe they have a solution: Watson. The artificial intelligence computer system, which attracted worldwide attention in 2011 when it bested two former champions on Jeopardy!, could revolutionize the way doctors diagnose and treat patients.
"One in five diagnoses today is inaccurate or incomplete," Stephen Gold, global director of IBM Watson Solutions, told an audience of McCormick students on January 24. "We know as an industry we can do a lot better than that, and it's not reasonable to expect a physician to do more … (so) Watson becomes the assistant."
With Watson for Healthcare, that virtual doctor's assistant is on the verge of becoming a reality. Gold, speaking as part of McCormick's Master of Science in Analytics Lecture Series, described IBM's work to apply Watson's groundbreaking technology to the medical sector. The resulting computing system — which, Gold said, could reach the market within a year — will offer a cloud-based program that could track a patient's symptoms, offer likely diagnoses, recommend tests, and even expedite approval from insurance companies.
The program, created in collaboration with Memorial Sloan-Kettering Cancer Center, is based on the same groundbreaking technology that enabled Watson to win Jeopardy!. To accomplish that feat, the computer navigated the complexities of human speech, churned through 200 million pages of unstructured data in less than three seconds, and delivered a confidence-based response, all the while learning and getting smarter with each outcome. "And the best thing about Watson?" Gold said. "No coffee breaks, it never sleeps, and it never forgets."
Additional "working Watson" projects include Watson for Financial Services and Watson Industry Solutions. But to make these projects a reality, IBM requires skilled analytics professionals in the workplace, Gold said. "We simply don't have enough analytics professionals, let alone enough analytically savvy managers," Gold told the crowd, many of whom were current and prospective Master of Science in Analytics students. "Your future is very bright."
The Master of Science in Analytics program is a 15-month curriculum housed in McCormick's Department of Industrial Engineering and Management Sciences. Applications for the 2013-14 cohort are now being accepted. For more information, visit http://www.analytics.northwestern.edu.