Events
Priscilla Lu, Venture Capitalist and McCormick Alumna, Talks Entrepreneurship
Founder of Cathaya Capital discusses how to make it in the cut-throat world of start-ups
When Facebook first entered the social media scene in the mid-2000s, its founders had every reason to be discouraged. MySpace had the market cornered, and it was rolling in cash from an acquisition from News Corporation. Facebook was, at best, an underdog.

It would have been easy — even logical — to give up. But Facebook didn't.

"They kept improving and inventing, and now look at them," said venture capitalist Priscilla Lu, addressing an audience of Northwestern University students on October 17. "There are so many obstacles, so many naysayers (in entrepreneurship). You have to really believe in (your product)."

Lu should know: she has spent more than 30 years experience in technology and business. She shared insights into her career of choice with her talk, "Venture Capital, Entrepreneurship, and You," part of the McCormick Discussions on Technology, Innovation, and Society lecture series sponsored by the McCormick Office of the Dean and the Society of Women Engineers.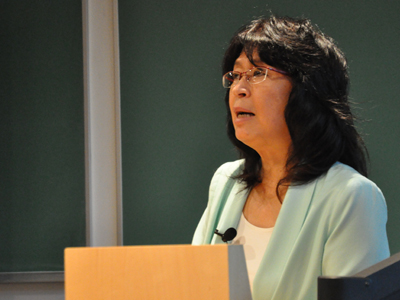 As founder, general partner, and managing director of Cathaya Capital, a private equity firm focused on investments in health care and clean tech in China, Lu has helped to fill a growing need for quality, private health care in the nation. Before founding Cathaya in 2009, Lu worked with the global venture capital firm Mayfield, where she helped found Golden Sands River Venture, overseeing more than $1 billion in investments. Previously she founded interWAVE Communications, building the largest set of mobile GSM and CDMA networks in Africa, and worked with AT&T Bell Laboratories for 16 years.

Through these experiences, Lu has learned that success never happens overnight. The start-ups that thrive most, she said, are those with the most driven people who focus on perfecting their output. "Your product doesn't have to be too exciting, it doesn't have to be too explosive. But it has to be focused and it has to deliver results," she said.

How can young entrepreneurs achieve results? First of all, by choosing their careers wisely. While being at the helm of a start-up can be incredibly gratifying, the job isn't for everyone; some people's skills are better suited for other careers in the field, Lu said, such as analysts or investment managers. For those who believe they have what it takes to found a start-up, Lu offered sage advice: stop thinking and start doing.

"I always tell people who come to me with a lot of ideas: take one and just do it," she said. "Then come back."

Lu received a BS and MS in computer science and mathematics from the University of Wisconsin, Madison and holds a PhD in computer science and electrical engineering from McCormick. She sits on multiple boards, including the McCormick Advisory Council.