Undergraduate
Northwestern Students Debut New Solar Car at Formula Sun Grand Prix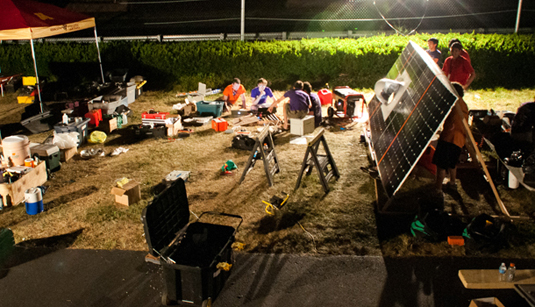 Northwestern University Solar Car Team members prepare for the Formula Sun Grand Prix at the Monticello Motor Club. (Photo: Alex Zhu)

The Northwestern University Solar Car Team is in Monticello, N.Y. this week, where the students will race a solar car of their design in the Formula Sun Grand Prix from July 10 to 12.

Northwestern's team will compete against 15 other university teams at the Monticello Motor Club to see which car can make the most laps using only solar power over the three-day event. The 15 Northwestern undergraduates will drive SC6 – short for "Solar Car 6" – the sixth car in the team's 14-year history.

"This is a brand new car that we designed and built over the past two years," said team member Alex Zhu (materials science, '14). "It has a more aerodynamic body, and the frame is carbon fiber instead of aluminum, so it's more lightweight than our previous car."

Early in the morning during the race, teams will take the solar arrays off their cars and aim them at the rising sun. They can then plug their batteries into the array at 7 a.m. and charge until the race begins at 9 a.m. The race lasts until 6 p.m., after which teams can recharge their cars and perform maintenance. Whichever team has the most laps at the end of the third day wins the race.

Four Northwestern students will take turns driving the car, while other team members consider strategy, handle any repairs, and monitor weather conditions to ensure they harvest enough solar energy for cloudy spells.

The race also serves as a qualifier for the American Solar Challenge, which pits solar cars against one another on a long-distance race from Rochester, N.Y. to Minneapolis, Minn. Teams must complete 105 laps in a single day, or 160 laps on any two consecutive days, in the Formula Sun Grand Prix in order to qualify for American Solar Challenge.

Founded in 1998, the Northwestern University Solar Car Team is an undergraduate student organization composed of students and faculty advisers from the broad range of engineering disciplines at Northwestern working together to design, build, and race solar electric vehicles for competition.

Read about the solar car building process on the Northwestern Solar Car Team blog.