Class Notes
Finding One's Own Measure of Success
He worked hard, played hard, and studied hard. Now Michael Mapes lives his dream as CEO of a company that does well by doing good.
Growing up in Dublin, Ohio, Michael Mapes ('00) dreamed of running a company as its chief executive officer. Because he always loved math and science, studying engineering seemed like the right first step in that direction.
Although he fell in love with Northwestern—the campus, the ability to take classes across schools, the access to Chicago—the tuition alone exceeded his family's household income.
Undaunted, he pursued his dream by working hard in a variety of full-time jobs while taking advantage of every opportunity available at Northwestern. He created a network of lifelong friendships, stepped out of his comfort zone in theatre classes, and took the initiative to call the phone number on a job posting he happened to see at Ryan Field.
That fateful call set the trajectory for the rest of his career, setting him up to achieve his dream 20 years later as CEO of Trivium Packaging, one of the world's largest packaging companies.
"I wouldn't be where I am today if it wasn't for Northwestern," he says. "My experience there teed me up for life. It really opened up my world with opportunities and experiences."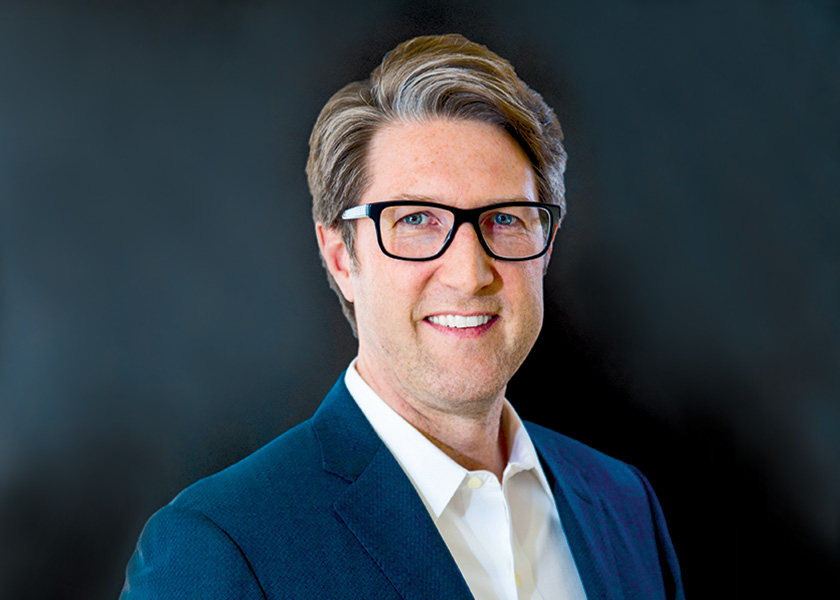 Getting exposed to a variety of business challenges
As a student, Mapes loved industrial engineering courses, where he began to understand optimization and problem-solving. He also enjoyed exploring the world outside of engineering—playing soccer, taking classes in economics and acting, joining the Kappa Sigma fraternity, and even studying in the United Kingdom.
To make ends meet financially, he worked several different jobs, including one at Northwestern's athletic facilities. On the job at Ryan Field one day, he saw a flyer advertising an internship at Merrill Lynch. He called and ended up landing the gig, working in investment banking before graduation.
That jumpstarted his career. After graduation, he became an analyst at Mercer Management Consulting, then took a job in operational and financial restructuring for a Bain Capital portfolio company. Next, he spent a few years in management consulting at McKinsey & Company.
"I thought about my early career the same way I thought about my time at Northwestern," he says. "I looked for jobs where I could learn as much as possible and get exposed to the biggest challenges out there."
Leading a company that's a force for good
The McKinsey job led to a position at Greif, an industrial packaging company. Mapes spent 10 years there, working his way up the company ladder and leading various international businesses. When it became clear that he wouldn't be the next CEO, at least not for some time, he looked elsewhere, ultimately becoming CEO at Exal, a metal packaging company. In 2019, when Exal merged with Ardagh Group's Food & Specialty Packaging business to form Trivium Packaging, Mapes was appointed CEO.
The Netherlands-based company is a global leader in metal packaging and manufactures a wide array of products, from aero-sol spray cans to aluminum bottles for major beverage companies to all types of food cans found at a grocery store. Mapes is excited about the company's focus on metal packaging, which brings in $2.7 billion in yearly revenues, because it provides an attractive solution to address the sustainability concerns facing consumers, brand owners, and governments. Metal packaging recycles forever, meaning less material ends up in landfills or the oceans and ultimately results in less carbon emissions over time.
"It's important to me to make a difference in the world," he says. "I've achieved my dream of being a CEO, but I want to make sure I'm leading a company that can be a force for good, and that's what we are doing right now at Trivium."
Staying connected with Northwestern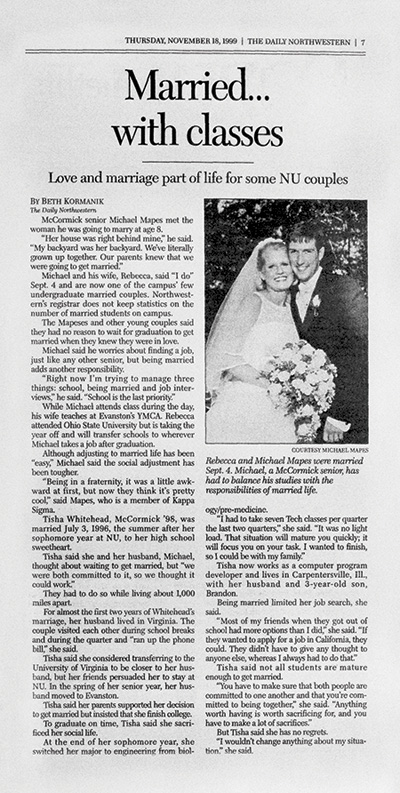 Outside of work, Mapes spends time with his wife, Rebecca, his high school sweetheart. The couple married before his junior year at Northwestern. (Married college students were so unusual, even then, that The Daily Northwestern wrote an article about them. Mapes was quoted as saying, "Right now I'm trying to manage three things: school, being married, and job interviews. School is the last priority.")
Now, the couple has five children and lives in Amsterdam. Mapes has also started looking for ways to give back to Northwestern by becoming more engaged. He wants to bolster hiring at Trivium with future Northwestern Engineering graduates.
He also hopes they're having the time of their lives, like he did. "It's important to do your best, but don't sweat the grades," he says. "It's more important to engage with all the resources that Northwestern has to offer. That way you can find your own measure of success."