Agile Advocate
Jorgen Hesselberg combines his communication skills and tech training to help companies unlock agility.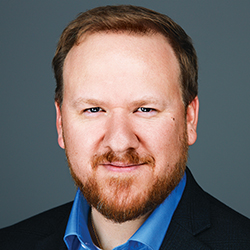 Growing up in Norway, Jorgen Hesselberg (MSIT '07) was always curious about other people's stories. After high school, he came to the United States, fully intending to return home after college to become a journalist.
But when he met the woman who would become his wife, his life took one of many turns that would take him down new paths he could not foresee—paths that would ultimately lead him to understand the importance of adaptability.
"I've learned it is impossible to create a five-year plan and expect those plans will work out," he says. "The more open you are to planning and replanning, the better off you're going to be."
After attending journalism school at the University of Missouri-Columbia and earning his MBA from Iowa State University, he settled in Chicago with his wife, and "suddenly I was doing this American thing, which I never thought I would do." It was 2000, and software developers were in high demand. Even though he lacked a technical background, Hesselberg found he could learn the required skills quickly and that his journalism background helped him determine what software users really wanted.
As he eyed moving into a leadership position, he felt he needed a better balanced set of technical and business skills. He enrolled in Northwestern Engineering's Master of Science in Information Technology (MSIT) program and settled in with an interdisciplinary cohort that called itself "Brute Force." The members spent long nights together in study groups learning how to solve a diverse set of business and technology challenges — ranging from network engineering to marketing strategy.
"The program filled an important gap—removing the divisions between business and technology," he says. "It increased my confidence quite a bit."
After earning his degree, Hesselberg eventually landed at Navteq, a provider of geographic information systems data, which was struggling to compete with Google Maps. That's when he began to research agile project management, which optimizes organizations for fast learning, adaptation, and change. After presenting the idea of instilling a more agile way of working to the CEO, he worked across the company to implement the strategy.
"That ultimately became the beginning of a whole new career for me," he says. In fact, it led to an agile transformation lead role in Intel's Norway office in 2013, which allowed Hesselberg to move with his wife and two children back to his home country.
In 2017, he left Intel to start his own company, Comparative Agility, which offers companies a platform for agility assessment and continuous improvement. He also wrote a book about his experiences, Unlocking Agility: An Insider's Guide to Agile Enterprise Transformation, published by Addison-Wesley in 2018.
Today, he lives the life he wants—spending time with his family in the Norwegian mountains while working with senior leaders in finance and marketing to help them create more agile companies. He still returns to Northwestern to speak to students in the MSIT program, which created such a strong foundation for his career.
"Even though technology changes quickly, the fundamentals I learned in MSIT are the same, and those skills have stayed evergreen," he says. "The program was life changing for me."