More Than a Job. Leadership and Growth.
Northwestern Engineering's director of career development sees great opportunity and competitive advantage for grads' professional success.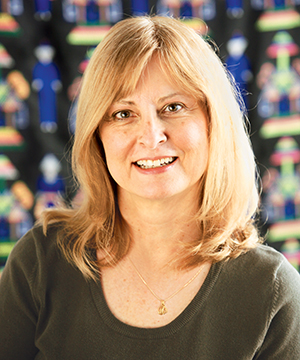 When Northwestern Engineering students look to gain experience and secure their futures in the professional world, many turn to Helen Oloroso and her team at the McCormick School of Engineering's Office of Career Development.
There, experienced career development professionals work hand-in-hand with students at every level—from undergraduates seeking internships to PhDs eager to work in research labs—to find the right fit to complement their academic pursuits and professional goals. Each year, Oloroso's office works with an average of 1,200 undergraduates, 750 graduate students, and approximately 120 employers.
Oloroso, who has spent more than a quarter-century connecting engineering students and alumni with employers, the last 17 years with Northwestern, has a unique vantage point from which to observe the engineering world's ebbs and flows. Recently, she fielded a few questions about the trends she sees in the engineering professional landscape and the distinct skills Northwestern Engineering students and alumni bring to the marketplace.
What special skills do Northwestern students in particular bring to the professional environment?
Even though engineers historically have been given a bad rap for their communication skills, employers tell us loud and clear that they prize Northwestern students' communication abilities. They also tell us that our students demonstrate exceptional capabilities for problem-solving.
I've heard the expression "blew the doors off" more than a few times from employers. I attribute this reaction to Northwestern Engineering's emphasis on whole-brain engineering and the design-thinking and communication framework we deploy across our curriculum. Our students and alumni are ready to join a team, identify problems, and craft intelligent and elegant solutions.
From an employer's perspective, what specific skills and experiences are most in demand?
Computer programming skills—the ability to customize, write, or deploy proprietary applications—remain in high demand, though analytics is closing in as businesses increasingly use big data to optimize what they're doing. There's also a growing focus on the soft skills. Employers want to see demonstrated ability to collaborate with others and flexibility to adapt to changing circumstances.
What big changes have you witnessed in engineering and business over the span of your career?
Today, there's certainly a greater emphasis on entrepreneurship as the economy's ability to support and nurture startups has changed dramatically. There's more opportunity to create value in tangible or intangible ways, and that just wasn't the case a few short years ago.
When we endured the dot-com boom and bust in the late 1990s, we hadn't found a way to monetize the web and encourage startups like we're doing today.Perhaps that hard fall then was necessary to create the robust startup environment we enjoy now.
The other big change is globalization. That has a lot to do with supply chains, of course, but also the way in which the web supports borderless commerce and enterprises.
Northwestern Engineering students and alumni take so many different professional pathways. Why is that?
A lot has to do with the students we're recruiting in the first place. The output is really an enhancement of the input. We don't take blank slates and create multidimensional individuals with varied interests and ambitions. Rather, our students come to us that way, and we provide an environment in which they can flourish and refine their capabilities. We don't focus on the analytic to the exclusion of the aesthetic or the creative. That means our students and alumni see more opportunities and ways to express their talents and deploy their education.
Speaking of opportunities, are you seeing engineering graduates moving into non-engineering roles?
Absolutely. With the increasing emphasis on big data and rapid advancements in artificial intelligence, many employers see that engineers possess the requisite skills to turn data into practical knowledge. An employer might hire one of our graduates to fill an engineering position fully aware that it could be just the first stop on that individual's path to leadership or an expanded role within the company.
How do you see the engineering career marketplace evolving in the years ahead?
As bots become more ubiquitous in every profession, in every occupation, I'm hearing more and more about "STEMpathy," the mix of STEM knowledge with empathy. Tools don't fill every need, and people with social science and human interaction skills can connect the dots and bring it all together. Those able to employ "STEMpathy" are in a real position to thrive.