Featured
A Change of Tune Defines a Career
Through an unexpected undergraduate research opportunity, ADC Therapeutics CEO Ameet Mallik discovered a career-defining interest in biotech and pharma.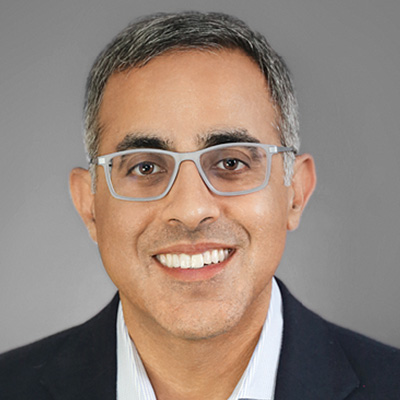 With his sophomore year as a chemical engineering undergraduate winding down, Ameet Mallik ('94, MS '95) found himself searching for ways to remain in Chicago for the summer. At first, his primary motivation was to continue performing with his Northwestern-based rock-and-roll band, Delusions of Grandeur. Then an unexpected opportunity came from E. T. Papoutsakis, a professor of chemical and biological engineering at Northwestern at the time, who invited Mallik to work in his lab.
Working in Papoutsakis's lab throughout the rest of his undergraduate years proved transformative for Mallik. It exposed him to biotechnology and research in such areas as recombinant DNA technology and cell culture scale-up and optimization in bioreactors. It clarified his purpose and propelled him toward becoming an innovative pharmaceutical and biotechnology industry leader.
"Northwestern is where I grew up," Mallik says. "I became a much better problem solver and a more confident, focused individual."
Discovering Another Interest: Business
Five years later, having earned a bachelor's degree in chemical engineering and a master's degree in biotechnology from Northwestern in the inaugural year of the degree program, Mallik joined Abbott's Engineering Professional Development Program. He rotated through different areas of Abbott's multifaceted corporation before helping launch a contract manufacturing business—an experience that convinced Mallik he enjoyed negotiating contracts as much as working on technical solutions.
To further his pursuit of becoming a business-savvy leader in science and medicine, Mallik earned an MBA at the Wharton School of the University of Pennsylvania. He then spent five years as a consultant at McKinsey & Company applying classroom lessons about supply chains, product launches, and acquisitions to real-world scenarios. The allure of biotech, and the passion ignited in Papoutsakis's lab, remained strong. In 2005, Mallik began a 16-year run with Novartis, one of the world's largest pharmaceutical companies. There, he finally married his dual interests in biotechnology and business. He sold and marketed cardiovascular products, directed global oncology marketing, as well as led global, regional, and country business operations. In 2017, he assumed responsibility for the company's $6 billion oncology operations in the United States.
Northwestern is where I grew up. I became a much better problem solver and a more confident, focused individual.
Ameet Mallik ('94, MS '95)CEO – ADC Therapeutics
Taking on the Challenge of Cancer Therapies
In the spring of 2022, Mallik accepted the CEO position at ADC Therapeutics, drawn by the opportunity to lead this innovative biotech company with its promising platform for attacking cancerous cells in the body.
On any given day, Mallik finds himself collaborating with his leadership team on core issues like commercialization strategies and capital allocation as well as interacting with customers, investors, industry colleagues, and board members. In many ways, it reminds Mallik of his time at Northwestern, where encounters with students and faculty from other academic disciplines and around the world awakened his curiosity and sharpened his worldview.
"I don't like monotony. I enjoy dealing with lots of different topics," Mallik says. "I thrive when uniting functional leaders from across the business around a common purpose."
If ADC is successful in accomplishing its central mission—to bring targeted cancer therapies to market for patients with unmet medical needs—Mallik will help combat a disease responsible for an estimated 10 million deaths globally each year. He considers it an energizing and motivating goal.
"There is meaningful opportunity here," Mallik says, "to make a difference in the lives of patients and their families."