Featured
Harnessing the Positive Potential of Artificial Intelligence
Tech entrepreneur and Noodle.ai CEO Stephen Pratt is using data science, supercomputing, and machine learning to rid the world of waste.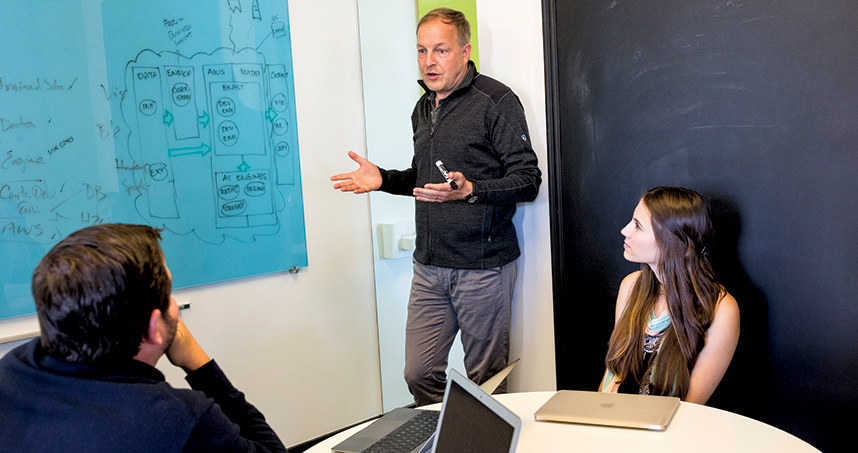 Stephen Pratt ('84) wants to make the world a better place, and he believes artificial intelligence (AI) holds the key. As Noodle.ai chief executive officer, he's turning belief into action.
"What we're all about at Noodle.ai is using data science to eradicate the world's waste," says Pratt, whose interest in data science can be traced back to his undergraduate studies in electrical engineering at Northwestern Engineering. "If you look at all the waste in the global economy, both in the amount of materials that are consumed and the inefficient way they're used, it's a non-sustainable practice for the economy and the planet."
With the world population expected to reach 11 billion in the next century, it is a global priority to efficiently use natural resources and allocate goods, Pratt says, whether that means food, water, or steel. Noodle.ai executives are determined to solve these difficult issues with the help of the Beast, the company's sophisticated AI system that helps clients manage complex business operations and optimize decisions using algorithms and machine-learning tools.
This AI-as-a-service model has been incredibly successful for the two-year-old startup, earning it many accolades, including its recent number four ranking on LinkedIn's Top US Startups 2018, alongside firms like Lyft and Bird scooter. Based in San Francisco, Noodle.ai recently announced a $35 million round of funding from TPG Growth and Dell Technologies Capital. Clients include Big River Steel and private aviation platform XOJET.
Watching the company go from an idea about how to apply machine learning more effectively to a successful international business has been incredible, Pratt says. "Now we have 150 people in offices around the world who are doing tremendous good for our customers and saving many megawatt hours of energy and tons of natural resources and CO2 emissions."
A Eye for Potential
Despite Noodle.ai's seeming overnight success, Pratt has worked on its underlying idea for years. Interested in control systems since his days at the McCormick School of Engineering, he used his skills serving in the Naval Reserve Officers Training Corps before joining Booz Allen Hamilton as a technology and strategy consultant. While working on satellite communications, he decided to earn a master's degree in the subject from the George Washington University.
He later joined consulting firm Deloitte, where he rose from entry-level partner to a top-level partner in just six years, the only person to have done so at the time. He began helping clients implement technology in customer relationship management, sales, and marketing with teams based in the US and India.
Seeing the potential for a globalized approach to technology consulting, Pratt approached Infosys about starting a consulting subsidiary. After getting the green light, he and frequent business partner Raj Joshi launched Infosys Consulting in 2004, going from a two-person startup to a company with 32,000 employees and $2.3 billion in revenue in 10 years. The company's success is the topic of case studies taught at Stanford University and Harvard University business schools, and Pratt has twice been named one of Consulting Magazine's top 25 consultants in the world.
A New Challenge
After a decade with Infosys Consulting, Pratt was ready for a new challenge. He connected with private equity company TPG Growth in 2014 about a new idea. "I thought the time had come for applying machine learning to complex businesses because the computing power was finally there," he says. "They hired me to go buy a company that was doing that. We looked for nine months and couldn't find it."
In the meantime, a friend from IBM asked Pratt if he was interested in running all of the Watson implementations worldwide for IBM Global Business Services. While the work was interesting, Pratt quickly realized that he wanted to work with a broader, more nimble technology.
He reconnected with TPG and crafted an agreement to fund the kind of company Pratt had in mind, a firm using both learning algorithms and business operational expertise to solve problems. He called up his Infosys Consulting collaborator Raj Joshi, and soon after, they launched Noodle.ai.
A Better Way to Do Good
Today, Pratt is right where he wants to be—heading up a company that uses artificial intelligence and machine learning to solve business problems. "What's really exciting about machine learning is that there are algorithms that learn and improve over time," he explains. "With traditional software, the day you put it in is the best it ever is—you put in fixed rules. With machine learning, the rules keep getting better, and they keep improving."
Clients subscribe monthly to use Noodle.ai's computing platform, which utilizes machine learning tools and algorithms to help them make their businesses more efficient and cut waste. XOJET increased profitability by using Noodle.ai's expert analysis to price flights better, while Big River Steel sold excess energy by predicting how much electricity it needed.
Noodle.ai's goal is to hit $100 million in revenue by 2020, but financial success isn't the only motivation. Pratt feels AI has great potential to improve our environment and society.
"There's a lot of hype right now about AI interacting directly with people or helping manipulate consumer decisions—I think that has the potential for real ethical issues," he says. "But applying AI to things like raw materials and manufacturing to reduce unnecessary inventory and eliminate waste has the potential to do tremendous good for the world and the global economy. At Noodle.ai, we're all about AI for good, and I think that AI technologies could hold the promise to solve a lot of the world's most complex problems."
A Whole-Brain Engineer
Pratt's Northwestern roots are strong—it's where he met his wife, Edie, a neurosurgeon who studied in the Honors Program in Medical Education ('85, '87), and where his daughter, Abby, is currently a McCormick sophomore creating her own major in computer science and behavioral economics. He taught both Abby and his son, Adam, important lessons from Northwestern, like the importance of combining creativity and abstract thinking with technical knowledge to develop unique ideas. He endorses Dean Julio M. Ottino's whole-brain approach to engineering.
"That's at the core of what we do at Noodle.ai—we study cognitive biases in making decisions, and we can help people make better decisions," he says. "I think applying good core engineering principles while taking into account other disciplines is key to the future of engineering."
It's why he's happy to count many Northwestern alumni among the Noodle.ai staff. Pratt speaks on campus at The Garage and Kellogg School of Management as a way of giving back to the school that taught him engineering thinking. "McCormick really trained me how to think about complex problems and how to break problems down into solvable chunks in a methodical way," he says. "Those fundamentals and that blending of creativity and technology have helped me a lot in creating businesses."