Following His Passion
After leadership roles with Chicago Public Schools and Year Up, Alan Anderson (MS '99) returns to Northwestern to build strong community partnerships
"I've never felt any obstacle was too great because the engineering discipline tells me there's a solution somewhere."
In Alan Anderson's final quarter as a master's student in electrical engineering at Northwestern, he took a technical entrepreneurship course with professor Michael Marasco. The goal of the course was direct, yet daring: build a product and pitch it to investors.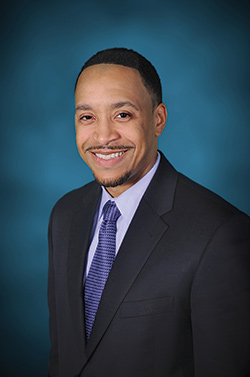 Over 10 weeks, Anderson and his teammates conceptualized a cart-mounted payment device allowing grocery store patrons to bypass checkout lines. They ran a business model and constructed their pitch.
It proved to be a life-altering experience for Anderson.
"Being a problem solver was in me and I wanted to do it more," Anderson says. "I saw how important creativity, ingenuity, and the entrepreneurial mindset were to advancing the world."
So even after Anderson had earned his master's and returned to his previous employer, Motorola, his heart was elsewhere.
"I was fascinated by opportunities, solutions, and selling an idea, particularly in the areas of youth development and education, which had become passion projects for me," he says.
A MEANINGFUL PATHWAY BACK
After nine years at Motorola, Anderson departed in 2006 to pursue his passion. He joined the Chicago Public Schools as an Eli Broad Fellow, a program that leverages the skills of professionals from nontraditional backgrounds to improve urban school district operations. Over the next four years, Anderson spearheaded school turnarounds, guided staff development initiatives, and led accountability programs, learning plenty about the public sector, messaging, and navigating bureaucracy.
"At the end of the day, I'm a fact-driven, pragmatic person who tries to address problems in a thoughtful way, and that's what I did," Anderson says.
In 2010, Anderson moved to Year Up, an upstart nonprofit that provides adults with a high school-level education access to professional skills development and internship opportunities. Charged with building the organization's Chicago presence from scratch, he relentlessly honored its mission; lives were transformed as graduates' incomes and attitudes jumped.
"I've never felt any obstacle was too great because the engineering discipline tells me there's a solution somewhere," says Anderson, who also holds an MBA from Northwestern's Kellogg School of Management.
This past summer, Anderson came onboard with Northwestern as executive director of neighborhood and community relations, tasked to foster beneficial relationships between the University and the greater Evanston community through initiatives such as the existing STEM program at Evanston Township High School.
"The exciting part is that I get to come back to a place I love and use all of the skills I've developed over the years to write this new chapter, which even includes a way to influence the next generation of engineers," Anderson says.