Taking Flight
Five alumni soar as aerial vehicle startup is bought by Google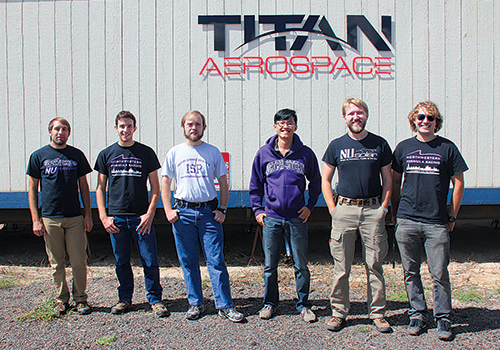 After graduation, five McCormick engineers (Stephen Benson '13, Dan Cornew '11, Kyle Liske '10, Matthew Nubbe '11, and Nick Renold '11) took the skills they learned during their time on McCormick's Formula SAE and solar car teams and went to work for Titan Aerospace, a start-up that designs and builds solar-powered, unmanned aerial vehicles. In April, the company was purchased by Google. The group took time to tell us about that transition, their favorite memories of McCormick, and how they keep in touch.
How did you get involved with Titan Aerospace?
Dan was visiting some friends in San Francisco, and he showed us a video of the work that Titan was doing. I was fascinated by the concept of an aircraft that could fly indefinitely, and the challenge to do something new with this technology. I asked if I could come help, and I moved out to start work the next month. 
-Nick Renold
What is the coolest part about your job?
We get paid to build something new! The Titan technology is pushing new boundaries, and it's exhilarating to see the aircraft come together.
-Dan Cornew
What is your favorite memory from your time at McCormick?
The 2011 Design Competition. In a competition where the objective was to move target cakes to one side of the field, we had the only robot that propelled them across instead of carrying them. Between the other teams' surprise and the audience's reaction, it was great to see it working mostly as intended.
-Matthew Nubbe
How did your work with the car teams at McCormick help you in your current role?
Experience with the car teams has helped in many ways. The intensity of the work required as a senior member of a car team really conditioned me for an exciting, evolving job. It provided experiences that no other students at Northwestern had. It caused me to think outside the box. The limits of "What can we get?" were replaced with "What can we design and make?" During my time with the Formula SAE team, we did things that pushed boundaries constantly. We were always pushing materials and designs to the limit to be as lightweight as possible. Nothing has changed making the jump to Titan. We're just playing in a different league now.
-Stephen Benson
How do you stay in touch with McCormick?
I stay in touch by visiting the Northwestern vehicle teams when I am in Chicago. It is fun to come back down to the machine shop in Ford, see what they are working on, and talk to them about the projects.
-Nick Renold