Nimble in Healthcare
Cindy Kent ('91) is bringing innovative pharmaceutical solutions to market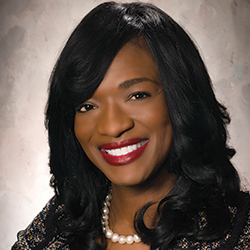 Healthcare today is not the same industry Cindy Kent entered 23 years ago.
Then a stable industry characterized by high-margin blockbusters, today the healthcare marketplace changes constantly amid an intense focus on outcomes and costs, new technologies, and developing global markets.
"Increased access, better quality of care, and improved clinical results all at lower costs— that's the game today," says Kent, president and general manager of 3M Drug Delivery Systems, a leading contract drug development and manufacturing organization that specializes in inhalation, transdermal, and conventional dosage forms.
Fortunately, Kent possesses the wherewithal to tackle the ever-shifting healthcare landscape. "Nothing develops your analytical and critical thinking skills quite like engineering," she says.
At 3M, Kent is the business head for the drug delivery division that has five manufacturing plants worldwide and a crossfunctional team of approximately 1,200, including senior-level leaders across manufacturing, engineering, research and development, sales, and marketing. She determines the division's strategic priorities, decides which projects the business will tackle and how much it will invest, and manages day-to-day business operations.
"Industrial engineering, in particular, is all about efficiency. This is how I was trained, so it's ingrained in how I operate today ... and is proving critical in a business where we need to be better and quicker."
Kent knows quick, purposeful action is imperative in today's marketplace, which is why she's revamping her division's business model. She understands that to be competitive, her unit must implement lean practices at every point in the value chain and align its core capabilities with customer needs. She even created Drug Delivery Systems vision cards to remind her team of its "True North," including top priorities and how they drive value creation.
Kent's reorganization of her divison is on point, evidenced by its recently earning a first-to-file patent application status on a key product line. "That's a marker we're making the strides we need to," she says.
It's a transformation Kent says she would not be able to lead without her experience at McCormick, where she learned how to extract the best from people and gained the foundational knowledge to thrive in highly technical business environments and turn the complex into simple, sellable value propositions.
"Industrial engineering, in particular, is all about efficiency," she says. "This is how I was trained, so it's ingrained in how I operate today … and is proving critical in a business where we need to be better and quicker."