2018-19 ECE Annual Awards Winners
Seven students and faculty were recognized during the annual ceremony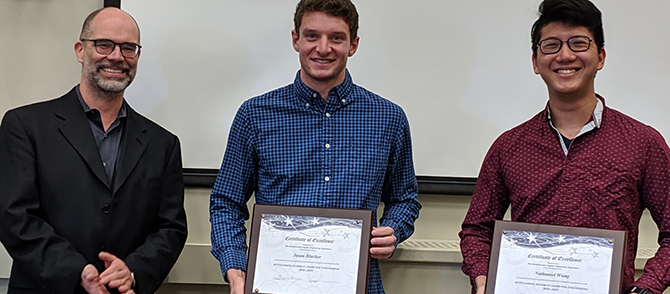 The Department of Electrical and Computer Engineering recognized seven students and faculty on June 7 during the annual departmental awards ceremony.
The event included a lecture from Simone Campanoni, assistant professor of computer science, who was the winner of last year's best teacher award for the electrical engineering and computer science department.
Jason Michael Blacher and Nathanial Kin Yew Wong received outstanding senior in computer engineering awards.
Sihua (Sylvia) Fu and Robert Matthew Gray received outstanding senior in electrical engineering awards.
Yearnchee (Curtis) Wang was recognized with the best teaching assistant award, and Selim Shahriar, professor of electrical and computer engineering, earned the best teacher award.
Wei Tang, advised by Ying Wu, professor of electrical and computer engineering, received the best dissertation award for the project, "Unified compositional models for visual recognition."