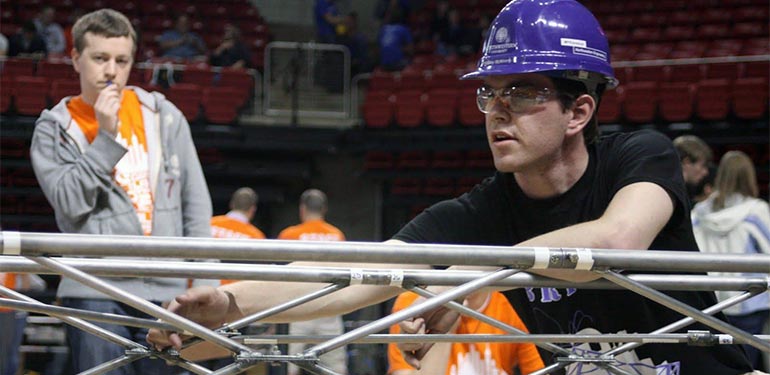 Structural Engineering (MS)
Structural engineering deals with the design, construction, and maintenance of the load carrying components of civil engineering infrastructures: buildings, bridges, highways, airports, power plants, dams, underground structures, ocean structures, and protective structures.
Resiliency (the capacity of withstanding exceptional loading events such as unintentional overloading, hurricanes, earthquakes, and man-made hazards) and sustainability (the ability of being durable, reliable, and economical affordable during the entire life-cycle) are the two main issues at the forefront of modern civil engineering.
The main goal of structural engineers is to ensure that existing and newly constructed structures are both resilient and sustainable. This is achieved through scientific and technological innovation, which requires that the new generations of structural engineers be equipped with a wider than ever range of technical knowledge and skills.
Learn more about this research area
Is this program right for you? Take a look at a glance.
Master's Program
Structural engineering can be taught in various ways. One approach is a traditional curriculum consisting mostly of practical courses in numerous special aspects of concrete and steel structures, especially code provisions and detailed design practices. Another approach emphasizes thorough understanding of the basic principles and exposes the student to the latest discoveries and trends, aided by the strong research orientation of the faculty.
At Northwestern we offer both approaches to practice structural engineering. For the former approach, students will be qualified to sit for the structural engineering exam after a few years of practical experience. Students taking the latter approach will be prepared to gain not only a deeper expertise, but also a greater versatility in choosing careers.
Request more information
Download a PDF program guide about your program of interest, and get in contact with our graduate admissions staff.
Career Paths
Our graduates go on to private consulting or construction firms, industrial or governmental research laboratories, and academia. Some enter the aerospace, electronic, or software design industry. Later in their careers, many become highly successful managers or independent consultants.
More in this section