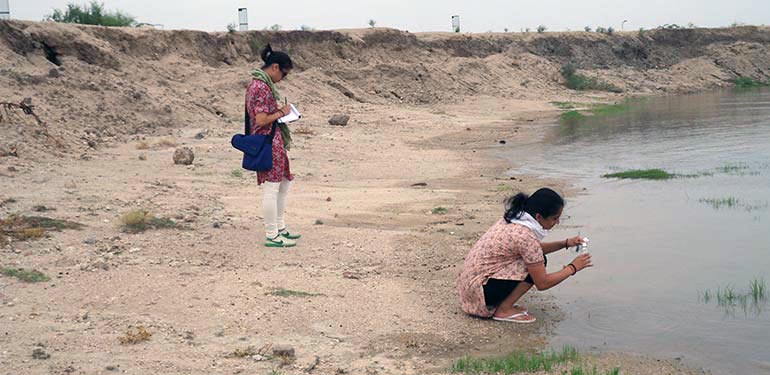 Academics

  /  

Graduate Study

  /  

Environmental Engineering & Science

Global & Ecological Health Engineering Certificate
Jump to a Section
Global and Ecological Health Engineering Field
Global and ecological health engineering knows no geographical boundaries. Appropriate health solutions to new and emerging challenges depend upon competent design and ecologically sustainable integration into local community, national, and global health systems.
Global and ecologically competent engineering is at the core of any successful health technological system, and the increasingly sought after skills needed to accomplish this task include:
Learning to understand a client's needs in culturally diverse settings.
Designing diagnostic tools and therapeutic delivery devices.
Providing safe drinking water and sanitation.
Improving training and information delivery systems.
Understanding the ecological impact.
Assessing and measuring the sustainability of appropriate technology.
Programs that manage chronic diseases such as obesity and diabetes, asthma, cardiovascular problems, and trauma can benefit from engineers who understand environmental triggers, patient behaviors, and global health trends. Being able to identify, control, and eliminate infectious diseases such as tuberculosis, HIV/AIDS, malaria, and emerging bacterial, and viral pathogens requires engineers who understand disease vectors, community, and public health systems.
Our Certificate Program
To meet these challenges, the master's program in environmental engineering offers a certificate in global and ecological health engineering. This four-quarter program trains engineers to become globally competent in either biomedical or environmental engineering and sustainability.
This certificate program is run concurrently with the existing biomedical and environmental engineering master's programs with one additional quarter, and includes a summer research project in Jodhpur, India, Chicago, or other locations.
Career Paths
The purpose of the certificate in global and ecological health engineering is to expand areas of expertise. It also aims to broaden career opportunities for graduate students who want to work in positions not only beyond the borders of the United States, but also beyond the traditional borders of industry in the fields of biomedical or environmental engineering.
Graduates may expect to seek employment with consulting companies, industrial firms, civil society organizations, government service delivery programs, and intergovernmental organizations. The flexibility of this program encourages the students to tailor their studies and open new horizons to address global health engineering.
Structure of the Program
This program is fulltime. Courses are weekdays and the average length of the program is four quarters. Classes are held at the Evanston campus.
Admissions
Students must be admitted into the environmental engineering MS degree program before enrolling for the certificate. For more information about the certificate program, please visit the Center for Innovation in Global Health Technologies, or contact Kimberly Gray, professor of civil and environmental engineering.
More in this section