ESAM Student Karna Gowda Awarded McDonnell Postdoctoral Fellowship
ESAM graduate student Karna Gowda has been awarded a James S. McDonnell Foundation Postdoctoral Fellowship under the Studying Complex Systems program. The fellowship, awarded to ten graduate students annually, will support up to three years of his future postdoctoral training.
The James S. McDonnell Foundation was established 1950 to "improve the quality of life," and does so in part through support of academic research. The fellowship award is "designed to provide students with an opportunity to obtain additional skills and experience that will further their pursuit of careers in complex systems science."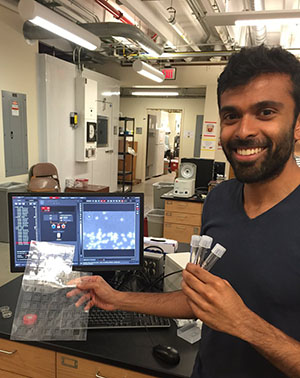 After completing his PhD this coming academic year, Gowda will join the lab of Professor Seppe Kuehn in the Department of Physics at the University of Illinois at Urbana-Champaign. Professor Kuehn's lab specializes in studying the ecological and evolutionary dynamics of microbes through novel instrumentation. 
Gowda will bring forward his graduate training in applied mathematics to develop quantitative theories for how microbes evolve in ecological communities. He also intends to broaden his training by designing and conducting long-term evolution experiments.
Gowda's postdoctoral training will be jointly supervised by ESAM professor Madhav Mani. The two are currently developing an algorithmic approach to simulating evolutionary dynamics in microbial communities.