Faculty Directory

Jeffrey Lopez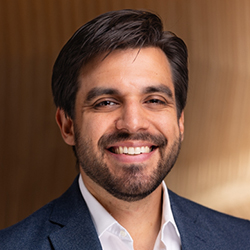 Assistant Professor of Chemical and Biological Engineering
Contact
2145 Sheridan Road
Tech E168
Evanston, IL 60208-3109
847-491-2716
Email

Jeffrey Lopez
---
Departments
Education
Intelligence Community Postdoctoral Fellow, Massachusetts Institute of Technology, Cambridge, MA
Ph.D. Chemical Engineering, Stanford University, Stanford, CA
B.S. in Chemical Engineering, University of Nebraska, Lincoln, NE
Research Interests
In the Lopez Group, we use insight gained from the study of charge transport processes and reactions at electrochemical interfaces to inform the design of new materials for energy storage applications.
Environmental challenges and economic forces are reshaping the way we generate and consume energy on a global scale. To keep up with the accelerating adoption of electric vehicles, allow for grid scale energy storage, and meet the demands of future technological advances, new materials for high energy density batteries must be developed. High costs have prevented widespread deployment of lithium ion batteries beyond portable electronics, and the safety hazards of exothermic reactions associated with traditional materials during cell failure remain to be fully addressed. Therefore, strategies to enhance the mechanical and chemical stability of next-generation electrode materials are key to the successful integration of batteries into our future energy systems.
Overall, the goal of our work is to identify and understand molecular phenomena that can be utilized to design and develop materials that address challenges related to enabling next-generation battery chemistries. Using advanced electrochemical and spectroscopic characterization techniques we aim to answer questions regarding the solvation structure of ions in electrolytes as well as the kinetics and mechanisms of electrochemical reactions at electrode interfaces. We are specifically interested in development of new materials to stabilize reactive lithium metal anodes and Ni-rich metal oxide cathodes, new electrolytes for fast and selective ion transport, and polymers with adaptive mechanical properties for applications in flexible, stretchable, and resilient batteries. Furthermore, we utilize tools for automated experimentation and high throughput analysis to accelerate the process of materials discovery and development.
Selected Publications
Lopez, J.; Pei, A.; Oh, J. Y.; Wang, G.-J. N.; Cui, Y.; Bao, Z. Effects of Polymer Coatings on Electrodeposited Lithium Metal. J. Am. Chem. Soc. 2018, 140 (37), 11735–11744.

Lopez, J.; Sun, Y.; Mackanic, D. G.; Lee, M.; Foudeh, A. M.; Song, M.-S.; Cui, Y.; Bao, Z. A Dual-Crosslinking Design for Resilient Lithium-Ion Conductors. Adv. Mater. 2018, 488, 1804142.

Lopez, J.; Mackanic, D.G.; Cui, Y.; Bao, Z. Designing Polymers for Advanced Battery Chemistries. Nat. Rev. Mater. 2019, 4 (5), 312–330

Qiao, B.;  Mohapatra, S.;  Lopez, J.;  Leverick, G. M.;  Tatara, R.;  Shibuya, Y.;  Jiang, Y. V.;  France-Lanord, A.;  Grossman, J. C.;  Gomez-Bombarelli, R.;  Johnson, J. A.; Shao-Horn, Y., Quantitative Mapping of Molecular Substituents to Macroscopic Properties Enables Predictive Design of Oligoethylene Glycol-Based Lithium Electrolytes. ACS Central Science 2020, 6 (7), 1115-1128.

Zheng, G.*; Wang, C.*; Pei, A.*; Lopez, J.*; Shi, F.; Chen, Z.; Sendek, A. D.; Lee, H.-W.; Lu, Z.; Schneider, H.; Safont-Sempere, M. M.; Chu, S.; Bao, Z.; Cui, Y. High Performance Lithium Metal Anode with a Soft and Flowable Polymer Coating. ACS Energy Lett. 2016, 1 (6), 1247–1255. *equal contribution

Sun, Y.*; Lopez, J.*; Lee, H.-W.; Liu, N.; Zheng, G.; Wu, C.-L.; Sun, J.; Liu, W.; Chung, J. W.; Bao, Z.; Cui, Y. A Stretchable Graphitic Carbon/Si Anode Enabled by Conformal Coating of a Self-Healing Elastic Polymer. Adv. Mater. 2016. 28 (12), 2455-2461. *equal contribution

Lopez, J.; Chen, Z.; Wang, C.; Andrews, S. C.; Cui, Y.; Bao, Z. The Effects of Cross-Linking in a Supramolecular Binder on Cycle Life in Silicon Microparticle Anodes. ACS Appl. Mater. Interfaces 2016, 8 (3), 2318–2324.