Faculty Directory

Yip-Wah Chung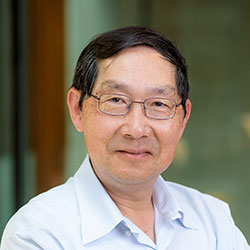 Professor of Materials Science and Engineering and (by courtesy) Mechanical Engineering
Contact
2220 Campus Drive
Cook Hall 2036
Evanston, IL 60208
847-491-3112
Email

Yip-Wah Chung
Website
---
Departments
Education
Ph.D. Physics, University of California at Berkeley, 1977
M.Phil. Physics, University of Hong Kong, 1973
B.S. Physics and Mathematics, University of Hong Kong, 1971
Research Interests
My research is in the area of surface science, tribology, design and characterization of lubricant additives, hard coatings and alloys, as well as high throughput synthesis of multi-component systems.
Significant Recognition
Fellow, Society of Tribologists and Lubrication Engineers (2005)
Innovative Research Award, ASME Tribology Division (2002)
Fellow, American Vacuum Society (2000)
National Storage Industry Consortium Technical Achievement Award (1999)
Fellow, ASM International (1998)
Visiting Fellow, Japan Society for Promotion of Science (1997)
Ralph A. Teetor Engineering Educator Award (1991)
ASME Tribology Division Best Paper Award (1990)
Faculty Honor Roll (1990)
Teacher of the Year in MSE (1986, 1991)
Significant Professional Service
Member, Hong Kong Research Grants Council
Member, University Grants Committee
Editorial Board, Tribology Letters
Editorial Board, Materials Science and Engineering R
Secretary, AVS Advanced Surface Engineering Division Executive Committee
Program Director, Civil and Mechanical Systems Division, National Science Foundation (2003-2005)
Chair, AVS Advanced Surface Engineering Division (2004)
American Vacuum Society Board of Directors (1/1998 - 12/1999)
Associate Editor, ASME Journal of Tribology (1997-2003)
Director, NSF/IUCRC Center for Engineering Tribology (1987-1992)
Selected Publications
Xuan Dou, Andrew R. Koltonow, Xingliang He, Hee Dong Jang, Qian Wang, Yip-Wah Chung, Jiaxing Huang, "Self-dispersed Crumpled Graphene Balls in Oil for Friction and Wear Reduction", Proceedings of the National Academy of Sciences 113, 1528-1533 (2016)
Thomas J. Zolper, Paul Shiller, Manfred Jungk, Tobin J. Marks, Yip-Wah Chung, Aaron Greco, Gary Doll, Babak Lotfizadeh Dehkordi, Qian Wang, "Correlation of polysiloxane molecular structure to shear-thinning power-law exponent using elastohydrodynamic film thickness measurements", J. Tribology 137, p. 031503-1-031503-10 (2015)

Idan Hod, Wojciech Bury, David M. Karlin, Pravas Deria, Chung-Wei Kung, Michael J. Katz, Monica So, Benjamin Klahr, Danni Jin, Yip-Wah Chung, Teri W. Odom, Omar K. Farha, and Joseph T. Hupp, "Directed growth of electroactive metal-organic framework thin films using electrophoretic deposition", Advanced Materials 26, 6295-6300 (2014)

Irene Bassanetti, Christina P. Twist, Myung-Gil Kim, Afif M. Seyam, Hassan S. Bazzi, 
Q. Jane Wang, Yip-Wah Chung, Luciano Marchio,  Massimiliano Delferro, Tobin J. Marks, "Synthesis and Characterization of Silver(I) Pyrazolylmethylpyridine Complexes and Their Implementation as Metallic Silver Thin Film Precursors", Inorg. Chem 53, 4629038 (2014)
Christina P. Twist, Irene Bassanetti, Matthew Snow, Massimiliano Delferro, Yip-Wah Chung, Luciano Marchió, Tobin J. Marks, Q. Jane Wang, "Silver-Organic Engine Oil Additive for High Temperature Applications", Tribology Letters 52, 261-269 (2013).
In the Classroom
In addition to teaching regular classes in materials science and engineering, Prof. Chung is involved with the development and teaching of one core course (ISEN 220, Introduction to 21st Century Energy Systems) for the Institute of Energy and Sustainability at Northwestern.  He is also involved with the Wanxiang Fellows Program, a study-abroad activity that allows selected Northwestern students to learn about sustainable energy and green technologies in China.