Faculty Directory

David Chopp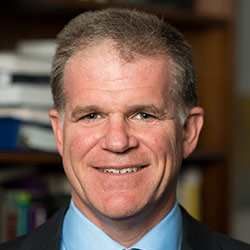 Professor of Engineering Sciences and Applied Mathematics
Contact
2145 Sheridan Road
Tech
Evanston, IL 60208-3109
Email

David Chopp
Website
---
Departments
Engineering Sciences and Applied Mathematics
---
Education
Ph.D. Mathematics, University of California, Berkeley, CA
B.S. Mathematics and Applied Mathematics in Numerical Analysis, University of Washington, Seattle, WA
Research Interests
Numerical methods; scientific computing; motion of interfaces. Applications include bacterial biofilms; neurophysiology; crack propagation; and solidification, among others.
Significant Recognition
Charles Deering McCormick Professor of Teaching Excellence
Selected Publications
Ford, Noah; Fisher, Garth; Prindle, Arthur; Chopp, David, A Two-Dimensional Model of Potassium Signaling and Oscillatory Growth in a Biofilm, Bulletin of Mathematical Biology 83(5).
Ford, Noah; Chopp, David, A Dimensionally Reduced Model of Biofilm Growth Within a Flow Cell, Bulletin of Mathematical Biology 82(3).
Caruso, Alice; Boano, Fulvio; Ridolfi, Luca; Chopp, David L.; Packman, Aaron, Biofilm-induced bioclogging produces sharp interfaces in hyporheic flow, redox conditions, and microbial community structure, Geophysical Research Letters 44(10):4917-4925.
Sadeghirad, Alireza; Chopp, David L.; Ren, Xiang; Fang, Eugene; Lua, Jim, A novel hybrid approach for level set characterization and tracking of non-planar 3D cracks in the extended finite element method, Engineering Fracture Mechanics 160:1-14.
Li, Xiaobao; Chopp, David L.; Russin, William A.; Brannon, Paul T.; Parsek, Matthew R.; Packman, Aaron I., In situ biomineralization and particle deposition distinctively mediate biofilm susceptibility to chlorine, Applied and Environmental Microbiology 82(10):2886-2892.
Kublik, Richard A.; Chopp, David L., A locally adaptive time stepping algorithm for the solution to reaction diffusion equations on branched structures, Advances in Computational Mathematics 42(3):621-649.