Faculty Directory

Daniel Apley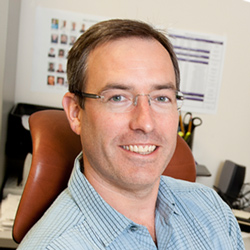 Professor of Industrial Engineering and Management Sciences
Contact
2145 Sheridan Road
Tech M235
Evanston, IL 60208-3109
Email

Daniel Apley
Website
---
Departments
Industrial Engineering and Management Sciences
Affiliations
Master of Science in Analytics Program
---
Education
Ph.D. Mechanical Engineering, University of Michigan, Ann Arbor, MI
M.S. Electrical Engineering, University of Michigan, Ann Arbor, MI
M.S. Mechanical Engineering, University of Michigan, Ann Arbor, MI
B.S. Mechanical Engineering, University of Michigan, Ann Arbor, MI
Research Interests
Statistical modeling and analysis of engineering systems; statistical learning and data mining; quality engineering and six sigma; manufacturing process diagnosis and control
Selected Publications
Park, C. and Apley, D. W., "Patchwork Kriging for Large-Scale Gaussian Process Regression," Journal of Machine Learning Research, 19(1), pp. 269-311, 2018.
Ouyang, L., Apley, D. W., and Mehrotra, S., "A Design of Experiments Approach to Validation Sampling for Logistic Regression Modeling with Error-Prone Medical Records," Journal of the American Medical Informatics Association, 23, e71-e78, DOI: 10.1093/jamia/ocv132, 2016.
Shi, Z., Apley, D. W., and Runger, G. C., "Discovering the Nature of Variation in Nonlinear Profile Data," Technometrics, 58(2), pp. 371-382, 2016.
Zhang, N. and Apley, D. W., "Brownian Integrated Covariance Functions for Gaussian Process Modeling:  Sigmoidal Versus Localized Basis Functions," Journal of the American Statistical Association, 111(515), pp. 1182-1195, 2016.
Bostanabad, R., Bui, A. T., Xie, W., Apley, D. W., and Chen, W., "Stochastic Microstructure Characterization and Reconstruction via Supervised Learning," Acta Materialia, doi:10.1016/j.actamat.2015.09.044, 103(15), pp. 89—102, 2016.
Arendt, P., Apley, D. W., and Chen, W., "A Preposterior Analysis to Predict Identifiability in Experimental Calibration of Computer Models," IIE Transactions,IIE Transactions, 48, pp. 75-88, DOI: 10.1080/0740817X.2015.1064554, 2016.
Gramacy, R. B. and Apley, D. W., "Local Gaussian process approximation for large computer experiments," Journal of Computational and Graphical Statistics, DOI:10.1080/10618600.2014.914442, 24(2), pp. 561—578, 2015
Apley, D. W., "Posterior Distribution Charts:  A Bayesian Approach for Graphically Exploring a Process Mean," Technometrics, 54(3), pp. 296-310, 2012.
Sun, Y. Apley, D. W., and Staum, J., "Efficient Nested Simulation for Estimating the Variance of a Conditional Expectation," Operations Research, 59(4), pp. 998–1007, 2011.
Shan, X. and Apley, D. W., "Blind Identification of Manufacturing Variation Patterns by Combining Source Separation Criteria," Technometrics, 50(3), pp. 332-343, 2008. Received the Wilcoxon Prize.