Faculty Directory

Todd E. Murphy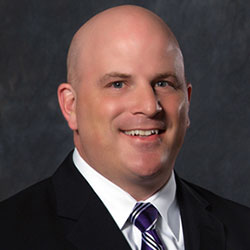 Clinical Professor, Robert R. McCormick School of Engineering and Applied Science
Associate Director, Center for Leadership
Contact
1813 Hinman Avenue
Evanston, IL 60208
847-467-4661
Email

Todd Murphy
---
Centers
Education
Ph.D., School of Communication, Northwestern University, Evanston, IL.
Master of Divinity, Trinity Evangelical Divinity School, Deerfield, IL
B.A., Political Science, Wheaton College, Wheaton, IL
Biography
Todd Murphy is the Associate Director of Northwestern University's Center for Leadership and a Clinical Associate Professor in the McCormick School of Engineering & Applied Science.

Dr. Murphy focuses on equipping leaders to mobilize individual differences in order to maximize team performance. His courses include Paradigms and Strategies of Leadership, Field Study in Leadership, Team Leadership and Decision Making, as well as Leader as Coach (Kellogg School of Management). His projects include leading the Undergraduate Leadership Program and establishing a global strategy for the Center.

In addition to his Ph.D., Todd has a Master of Divinity degree and is an ordained Anglican Priest, serving at a parish in Gainesville, Florida for two years. His church and non-profit interests have led him to tutor children on the south side of Chicago, as well as work projects in rural Mississippi and civil war-torn Guatemala.


Research Interests
Dr. Murphy's research focuses on the effects of surface-level and deep-level diversity on team dynamics.
Courses Taught
Paradigms and Strategies of Leadership
Field Study in Leadership
Team Leadership and Decision Making
Leader as Coach