Faculty Directory

Ellick Chan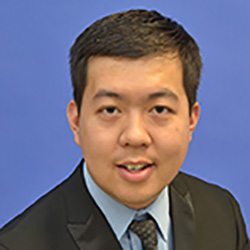 Adjunct Lecturer
Contact
2145 Sheridan Road
Tech
Evanston, IL 60208-3109
Email

Ellick Chan
Website
---
Departments
Industrial Engineering and Management Sciences
Affiliations
Education
Postdoctoral Scholar, Stanford University, August 2014
Ph.D., Computer Science, University of Illinois at Urbana-Champaign, 2011
M.B.A., Business Administration, University of Illinois at Urbana-Champaign, 2011
M.S., Computer Science, University of Illinois at Urbana-Champaign, 2004
B.S., Computer Engineering, University of Illinois at Urbana-Champaign (with highest honors), 2004
Siebel Scholarship, 2004
Biography
Dr. Ellick Chan is passionate about bringing advanced artificial intelligence technology to students. He has taught deep learning in Northwestern's data science program for the past 3 years and he extends his commitment to AI education at Intel where he leads university relations and research worldwide for the Intel® AI Academy. Dr. Chan holds 3 computer science degrees and an MBA from the University of Illinois where he studied operating systems and security. He brings this deep technical expertise to optimize AI systems. Dr. Chan has also worked as a postdoc at Stanford University and as a deep learning consultant serving many industries including defense, automotive and healthcare.
Selected Publications
Yee R, Chan E, Senatore C, Cheng B, Bansal G. Collaborative Perception for Automated Vehicles Leveraging Vehicle-To-Vehicle Communications. Proceedings of the 2018 IEEE Intelligent Vehicles Symposium, June 2018.
Chan E, Lam P, Mitchell J.  Understanding the challenges with medical data segmentation for privacy.  USENIX Workshop on Health Information Technologies, August 2013.
Cui W, Peinado M, Xu Z, Chan E.  Tracking rootkit footprints with a practical memory analysis system.  Proceedings, 21st USENIX Security Symposium, USENIX, August 2012.
Chan E, Venkataraman S, Tkach N, Larson K, Gutierrez A, Campbell R.  Characterizing data structures for volatile forensics.  IEEE Systematic Approaches to Digital Forensic Engineering (SADFE), 2011.  Best student paper award; best presentation award.
Chan E, Venkataraman S, Chaugule A, Campbell R.  Forenscope:  A framework for live forensics.  Annual Computer Security Applications Conference (ACSAC), 2010.
Chan E, Chaugule A, Larson K, Campbell R.  Performing live forensics on insider attacks.  Proceedings, CAE Workshop on Insider Threat, 2010.
Farivar R, Verma A, Chan E, Campbell R.  MITHRA:  Multiple data Independent Tasks on a heterogeneous resource architecture.  IEEE Cluster, 2009.
David F, Chan E, Carlyle J, Campbell R.  CuriOS:  Improving reliability through operating system structure.  USENIX Symposium on Operating Systems Design and Implementation, December, 2008.
Chan E, Carlyle J, David F, Farivar R, Campbell R.  BootJacker:  Compromising computers using forced restarts.  ACM Conference on Computer and Communications Security, October, 2008.
David F, Chan E, Carlyle J, Campbell R.  Cloaker:  Hardware supported rootkit concealment.  IEEE Symposium on Security and Privacy, May, 2008.